Telex from Cuba (MP3 CD)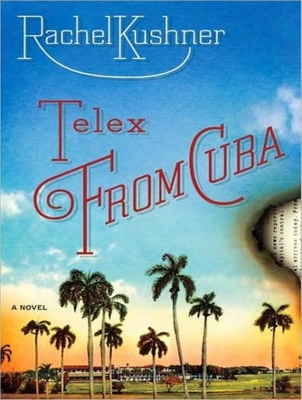 Not available to order
Stock uncertain--should fulfill within 10 days or so
July 2008 Indie Next List
---
"Set in the last days of Cuba's golden age (at least, for American businessmen), this saga, at once familial and national, chronicles the drama of Castro's coming coup upon a family stuck in the center of an unstoppable storm. Kushner's storytelling -- as detailed as it is colorful; as truthful as it is fictional -- reads like a vast mural in prose, covering the reader's imagination with pages of forceful action and forthright emotion."
— Steve Shapiro, Rainy Day Books, Fairway, KS
Description
---
Rachel Kushner's mother grew up in Cuba in the 1950s, in the United Fruit Company enclave where Telex from Cuba takes place. Calling on a rich trove of family letters, photos, meticulously kept journals, and historical research, Kushner sets free her brilliant imagination in this profoundly resonant story of a world that was paradise for a time and for a few. For half a century, Americans controlled Cuba's sugar and nickel operations-the country's two most lucrative exports. Between the United Fruit Company's 300,000-acre plantation and the nearby Nicaro nickel mines, Americans tended their own fiefdom in Cuba's Oriente Province. Everly Lederer and K. C. Stites come of age in this world. Each has a keen eye for the indulgences and betrayals of the grown-ups around them. Meanwhile, in faraway Havana, a cabaret dancer and a French agitator with a shameful past become enmeshed in the brewing political underground. When Fidel and Ra l Castro lead a revolt from the mountains just above the Americans' privileged enclave, torching sugarcane fields and recruiting rebels, K. C. and Everly begin to discover the complexities of class and race and the barely disguised brutality that keeps the colony humming. If their parents seem blissfully untouched by the forces of history, the children hear the whispers of what's to come, as Kushner deftly merges the rural and urban dramas. At the time, urgent news was conveyed by telex. Kushner's first novel is a tour de force, haunting and compelling, with the urgency of a telex from a forgotten time and place.
About the Author
---
Rachel Kushner is coeditor of "Soft Targets" and a frequent contributor to "Artforum."

Lloyd James has been narrating since 1996, has recorded over six hundred books in almost every genre, has earned six "AudioFile" Earphones Awards, and is a two-time nominee for the prestigious Audie Award.
Praise For…
---
"Lloyd James's spirited reading captures every aspect of Kushner's story; he can easily tug at listeners' heartstrings and guide them on a remarkable journey." ---Publishers Weekly Audio Review