The Keep (Hardcover)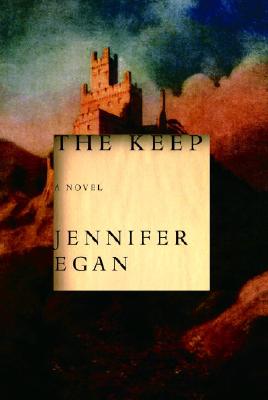 Not available to order
Stock uncertain--should fulfill within 10 days or so
Description
---
From National Book Award finalist Jennifer Egan, author of Look at Me ("Brilliantly unnerving . . . A haunting, sharp, splendidly articulate novel" —The New York Times), a spellbinding work of literary suspense enacted in a chilling psychological landscape—a dazzling tour de force.

Two cousins, irreversibly damaged by a childhood prank whose devastating consequences changed both their lives, reunite twenty years later to renovate a medieval castle in Eastern Europe, a castle steeped in blood lore and family pride. Built over a secret system of caves and tunnels, the castle and its violent history invoke and subvert all the elements of a gothic past: twins, a pool, an old baroness, a fearsome tower. In an environment of extreme paranoia, cut off from the outside world, the men reenact the signal event of their youth, with even more catastrophic results. And as the full horror of their predicament unfolds, a prisoner, in jail for an unnamed crime, recounts an unforgettable story—a story about two cousins who unite to renovate a castle—that brings the crimes of the past and present into piercing relation.

Egan's relentlessly gripping page-turner plays with rich forms—ghost story, love story, gothic—and transfixing themes: the undertow of history, the fate of imagination in the cacophony of modern life, the uncanny likeness between communications technology and the supernatural. In a narrative that shifts seamlessly from an ancient European castle to a maximum security prison, Egan conjures a world from which escape is impossible and where the keep—the last stand, the final holdout, the place you run to when the walls are breached—is both everything worth protecting and the very thing that must be surrendered in order to survive.

A novel of fierce intelligence and velocity; a bravura performance from a writer of consummate skill and style.
Praise For…
---
For The Keep

"Jennifer Egan is a refreshingly unclassifiable novelist. . . . Egan sustains an awareness that the text is being manipulated by its author, while at the same time delivering character and story with perfect and passionate conviction. Very few writers, in our time or any other, have been able to bring that off . . . the dazzling presentation makes us believe that it really is a matter of life, death and salvation. . . . The result is a work both prodigiously entertaining and profoundly moving."
—Madison Smartt Bell, The New York Times Book Review

"Intelligent, challenging and exciting. . . . The characters' emotions are so real, the author's insights so moving that readers will be happy to be swept away."
—Kirkus Reviews (starred review)

"This neo-gothic tale conjures a wicked form of therapy for BlackBerry-addicted urbanites. . . . Egan's clever scenario presents Danny's mental liberation as both thrilling and dangerous—imagination is the ultimate drug, she suggests—and the novel luxuriates in Wilkie Collins–style atmospherics."
—The New Yorker

"A novel as daring as Jennifer Egan's The Keep makes us think hard about one of the murkiest mysteries of all: the mystery of perception, that uncertain border where reality and imagination meet . . . irresistibly suspenseful. . . . A novel like The Keep shows us what it's like to live outside of today's categories and to exist in unreal situations, in dreams, in confusion, in the experiences of others."
—Joanna Scott, The Los Angeles Times

"Egan is an exceptionally intelligent writer whose joy at appropriating and subverting genres and clichés—from prison memoir to Gothic ghost story—is evident on every dizzyingly inventive page."
—The Washington Post

"[A] remarkable piece of work. . . . Egan effectively echoes the works of Gothic writers such as Ann Radcliffe (The Mysteries of Udolpho) and Horace Walpole (Castle of Otranto), fusing a seemingly moribund genre with elements borrowed from the metafictions of John Barth, Italo Calvino and others. It's tricky; but it's a trick only a terrifically talented writer could pull off."
—San Francisco Chronicle

"If Kafka's Joseph K. and Lewis Carroll's Alice had a son, he would have to be Jennifer Egan's Danny. . . . No matter how many symbols and zany subplots she juggles . . . the novelist keeps the action moving and the irony biting."
—Boston Sunday Globe

"Intelligent, intense and remarkably intuitive. . . . Jennifer Egan gives us the satisfying thunk of a fully understood if unexpected, kind of sense."
—Nan Goldberg, The New York Observer

"It's precisely Egan's talent for tapping into the American subconscious—with deeply intuitive forays into the darker aspects of our technology–driven, image–saturated culture—that has established the author and journalist as a prescient literary voice."
—Vogue

"Jennifer Egan spins a haunting tale. . . . Egan's brilliance is in balancing the deliciously creepy elements of gothic–castle novels with the dead–on realism of a prisoner's life, to create a book worth keeping."
—Elissa Schappell, Vanity Fair

"Egan's third novel . . . is a strange, clever, and always compelling meditation on the relationship between the imagination and the captivities (psychological, metaphysical, and even physical) of modern life."
—The Atlantic Monthly

"Visionary . . . at once hyperrealistic and darkly dreamed. . . . With Egan's powers of invention running at full tilt, The Keep reads like a twenty-first-century mash-up of Kafka, Calvino, and Poe, in which the absurd meets the surreal meet the unspeakable—to edgy, entertaining effect."
—Lisa Shea, Elle

"Roiling and captivating. . . . As you finish this novel, part horror tale, part mystery, part romance, the mind lingers over it, amazed by how vivid Egan has made it, how witty, how disturbing, how credible, and yet how utterly fantastic."
—Vince Passaro, O, The Oprah Magazine

"The Keep is an example of literature responding to current events not with a mirror but an artful mindfuck."
—David Bahr, Time Out New York

"With The Keep, Egan breaks the mold from page one. Her muscular, lively prose achieves a haunting effect. . . . [The book] maintains a frightening, vertiginous velocity. . . . And the immersion in these high-stakes psychological tightrope acts gives The Keep a page-turning horror. . . . Outstanding."
—The Onion

"Egan gets everything right–from the convolutions of the strung-out male mind to the self-deceptions of a drug addict–and her skill will keep you marveling at the pages that you can't help turning."
—People

"Like an old spirit who refuses to go away, this is one fantasy that haunts long after its physical end."
—The Boston Phoenix

"Egan is both a captivating storyteller and an incisive social observer. . . . The events that transpire are so surprising and provocative, the humor so wry, the sheer pleasure of reading The Keep so great, one instantly feels impelled to read it again, an impulse that is grandly rewarded, so masterful is Egan's foreshadowing, so nuanced and mysterious is the story. Gothic and chthonic, The Keep is satirically sublime."
—The Chicago Tribune

"Arresting . . . insightful and often funny, so fluid that you actually have the sensation of sinking into these lives . . . strange and beautifully drawn, a place well worth visiting."
—Susan Kelly, USA Today

"Dazzling . . . a metafictional tour de force . . . it draws us in with its compelling realism as surely as anything by Dickens or Balzac—not to mention Henry James, who understood better than anyone how to turn the screw."
—Chicago Sun-Times

"Steeped in Gothic mystery and plugged into our wired, up–to–the–minute cultures, The Keep is a hypnotic tale of unexpected connections between isolated people, each concealing secrets that ultimately upend how we see them. . . . Though dark with betrayal and violence (both psychological and literal), The Keep ultimately reveals itself to be a love letter to the creative impulse."
—Newsday

"The Keep is a novel of ideas."
—Poets & Writers

"An engrossing narrative told in prose that's remarkably fresh and inventive."
—Library Journal

"Atmospheric and tense, this is a mesmerizing story."
—Booklist

"Jennifer Egan is a contemporary American storyteller in the vein of Stephen King or The Sopranos scriptwriters. Her latest novel, a slightly gothic tale of love and the (possibly) supernatural, is a pleasure to read. . . . Egan's eye and ear for contemporary America places the whole saga too close to home for fantasy."
—Emily Carter Roiphe, Minneapolis Star-Tribune

"A dark and fascinating journey. . . . Egan skillfully builds the tension to a tipping point, culminating in an explosion. . . . The complicated plot comes together seamlessly, marvelously. . . . It's a novel that engages and haunts the reader, a psychological who's–who, who–dun–what and how–do–they–go–on. The Keep is a fast an furious read, a perfect summer novel."
—Rocky Mountain News

"Egan . . . makes it all work. How she weaves the story of these four people together—and the unexpected links between them—is fascinating."
—The Oregonian

"The book itself is a stronghold of imaginative story telling, the last stand of the Gothic novel."
—The Philadelphia Inquirer

"Exhilarating . . . Context and borders shift and dissolve, and the reader experiences the precise frisson the gloomy genre of Gothic is meant to convey: the wonder, the terror and the trapped chill of fear that resolves in a mind-expanding realization of the dimensions within your own head. In a word: sublime."
—Linda Marotta, Fangoria

"Part gothic romance, part ghost story, and peppered with Egan's startling insights into the role of communication and loneliness in contemporary life, this is one brainy page-turner that will have you leaving the lights on at night."
—iVillage

"The Keep is a cinematic treat for the inner eye, moving as it does between the musty dungeons of an ancient power to a prison full of angry men and deep into the souls of the walking dead—those riddled with guilt, lust and loneliness."
—Santa Cruz Sentinel

"The Keep is imaginatively plotted and keeps you guessing until its final chapter. Far from seeming in any way contrived or dependent upon props or plot stratagems, Egan's storytelling reaffirms the quality that defines 'literary' suspense."
—Pittsburgh Tribune-Review

"Jennifer Egan's The Keep is a page–turner."
—The Austin Chronicle

"An addictive, clever story."
—The Register-Guard

"A psychological drama inside a haunted house tale wrapped in a prison memoir that never fails to stoke the imagination. . . . An original thrill ride of a novel."
—Times-Leader

"A chilling tour de force made eerily real."
—Bookpage

"Egan's story, like the elusive castle with its unexplored rooms and uncharted underground tunnels, keeps transforming into new realities as she unveils some extraordinary surprises along the way. Jennifer Egan is a very fine writer, whose characters and plot will keep you up late reading and pondering its fascinating turns."
—San Antonio Express-News






For Look at Me

"Brilliantly unnerving. . . . A haunting, sharp, splendidly articulate novel."
—The New York Times

"Egan goes deeper, surprising us again and again. [She] limns the mysteries of human identity and the stranglehold our image-obsessed culture has on us all in this complicated and wildly ambitious novel."
—Newsweek

"Intriguing. . . . An unlikely blend of tabloid luridness and brainy cultural commentary. . . . The novel's uncanny prescience gives Look at Me a rare urgency."
—Time

"Egan has created some compelling characters and written provocative meditations on our times. . . . [She] has captured our culture in its edge-city awfulness."
—The Washington Post Book World

"Comic, richly imagined, and stunningly written. . . . An energetic, unorthodox, quintessentially American vision of America."
—The New Yorker

"Look at Me is a complicated novel . . . but the questions it raises are worth following a lifetime of labyrinths toward the answers."
—Los Angeles Times

"Ambitious, swiftly paced. . . . Egan writes with such shimmering élan that it's easy to follow her cast on its journey."
—The Wall Street Journal

"Prescient and provocative. . . . The characters . . . jump from the pages and dare you to care about them. . . . The prose is crisp and precise. . . . The pieces fit together at the end with a satisfying click."
—Philadelphia Inquirer

"Propelled by plot, peppered with insights, enlivened by quirkily astute characterizations, and displaying an impressive prescience about our newly altered world, Look at Me . . . takes us beyond what we see and hints at truths we have only just begun to understand. . . . Few recent books have so eloquently demonstrated how often fiction, in its visionary form, speaks of truth."
—Salon.com

"Look at Me makes us think about our trust in the images that bombard us, and what we give away in the process."
—Chicago Tribune

"Egan's rich new novel . . . is about bigger things: double lives; secret selves; the difficulty of really seeing anything in a world so flooded with images."
—The Nation

"Egan's take . . . is surreal and profoundly ironic and exaggerated, but it still rings true. . . . Beneath it all, she finds characters worth saving."
—Hartford Courant

"Breathtaking. . . . combines the tautness of a good mystery with the measured, exquisitely articulated detail and emotional landscape of the most literary of narratives. . . . . Sure to leave readers thinking about these very real characters for some time to come."
—BookPage

"An imaginative, well-paced read with serious questions about the elusiveness of meaning inside the gilded cage. Egan has intelligence to burn but plenty of feeling too."
—People

"Part mystery, part cultural critique, [Look at Me] masterfully entwines the novel's secondary characters, building to a conclusion that is unexpected and disturbing, and making an incisive statement about our society's obsession with fame and glamour."
—San Francisco Chronicle

"Riveting. . . . As the book gains momentum, Egan's writing is both fluid and driven, with wonderful slashes of satire. . . . A remarkable study of our culture (where we all seem to be wearing masks) and of our palpable need to be known."
—O: The Oprah Magazine

"Egan has created a compelling world. . . . With [her] graceful prose and vivid characterizations, she navigates her plot lines' churning waters with admirable skill."
—Seattle Weekly

"[A] scintillating inquiry into the complex and profound dynamics of perception. Egan . . . animates a superb cast of intriguing and unpredictable characters, and tells an elegantly structured, emotionally arresting and slyly suspenseful story."
—Newsday

"Dark, hugely ambitious. . . . As riveting as a roadside wreck–and noxiously, scathingly funny."
—Elle

"Intelligent and refreshingly dark, Egan's eerie tale has the same mesmerizing pull as the culture it skewers."
—Us Weekly

"Fresh, accurate, clear and inventive. . . . The vocabulary, the crisp, graceful sentences, the intelligence of tone, all suggest that behind the narrative is a consciousness, and behind the consciousness a writer who knows what she's doing."
—Francine Prose, The New York Observer

"This masterfully plotted work bears the stamp of a perceptive–if not clairvoyant–writer whose disturbing vision . . . rings all too true."
—SF Weekly

"Egan's ability to move with ease between sincerity and satire sets Look at Me apart. . . . Her authentic-feeling details give a sense of unusual immediacy."
—Vogue