The Closing of the Western Mind: The Rise of Faith and the Fall of Reason (Paperback)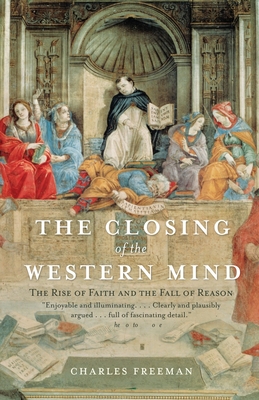 Description
---
A radical and powerful reappraisal of the impact of Constantine's adoption of Christianity on the later Roman world, and on the subsequent development both of Christianity and of Western civilization.

When the Emperor Contstantine converted to Christianity in 368 AD, he changed the course of European history in ways that continue to have repercussions to the present day. Adopting those aspects of the religion that suited his purposes, he turned Rome on a course from the relatively open, tolerant and pluralistic civilization of the Hellenistic world, towards a culture that was based on the rule of fixed authority, whether that of the Bible, or the writings of Ptolemy in astronomy and of Galen and Hippocrates in medicine. Only a thousand years later, with the advent of the Renaissance and the emergence of modern science, did Europe begin to free itself from the effects of Constantine's decision, yet the effects of his establishment of Christianity as a state religion remain with us, in many respects, today. Brilliantly wide-ranging and ambitious, this is a major work of history.
About the Author
---
Charles Freeman is the author of The Greek Achievement and Egypt, Greece, and Rome. He lives in Suffolk, England.
Praise For…
---
"Enjoyable and illuminating. . . . Clearly and plausibly argued . . . full of fascinating detail." –The Boston Globe

"Entertaining. . . . An excellent and readable account of the development of Christian doctrine." –The New York Times Book Review

"There is much here to admire. . . . It is a panoramic view that Freeman handles with grace, erudition and lucidity." –The Washington Times

"A triumph. . . . Engrossing. . . . Successfully realized. . . . Wholly admirable. . . . Freeman is to be congratulated on a broad-brush approach that throws the main issue into sharp focus. . . . [He] has added a new level of understanding." –The Times Higher Education Supplement

"A fascinating account." –The Atlanta Journal-Constitution

"Engrossingly readable and very thoughtful. . . . Freeman draws our attention to myriad small but significant phenomena. . . . His fine book is both a searching look at the past and a salutary and cautionary reminder for us in our difficult present." –The New York Sun

"One of the best books to date on the development of Christianity. . . . Beautifully written and impressively annotated, this is an indispensable read for anyone interested in the roots of Christianity and its implications for our modern worldview. . . . Essential." –Choice

"Engaging. . . . Refreshing. . . . A memorable account. . . . The author is always interesting and well informed. Freeman's study moves with ease between political and intellectual history. . . . The cumulative effect is impressive." –The Times Literary Supplement

"A fine book for a popular audience that enjoys history, clear writing, and subject matter that reflects our own time." –Houston Chronicle

"The narrative is clear and fluent, the nomenclature is studiously precise . . . and the theological conflicts of the fourth century are analyzed with . . . subtlety." –History Today

"Ambitious, groundbreaking. . . . In the tradition of . . . Karen Armstrong's A History of God . . . a scholarly history that is accessible, passionate and energetic." –Hartford Advocate

"Freeman has a talent for narrative history and for encapsulating the more arcane disputes of ancient historians and theologians. . . . He manages not only to make these disputes interesting, but also to show why they mattered so much. It is a coup that few books on the early church pull off." –The Independent

"Engaging and clearly written." –The World and I

"[A] lucid account of an intellectual and social transformation that continues to shape the way Christianity is experienced and understood." –The Dallas Morning News