Easy Mediterranean Recipes Cookbook for Beginners: Kitchen-tested recipes to live healthy and eat well every day (Hardcover)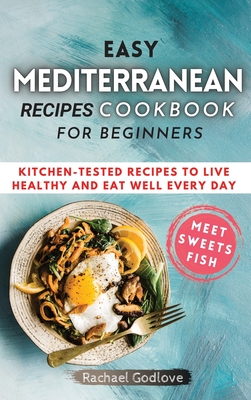 $43.99
Temporarily Unavailable
Description
---
✮
Easy Mediterranean Recipes Cookbook for Beginners
✮
HARDCOVER
✅ Mediterranean Delicious Recipes to Make at Home
If you are looking for ideas for a Mediterranean dinner, here are the best traditional Mediterranean recipes.
Mediterranean cuisine, in recent years, is very sought after, one of the main reasons why I decided to write a book of Mediterranean recipes is due to the fact that it is a very healthy cuisine and that goes hand in hand with different types of diets.
Mediterranean cuisine is rich in culture and history, like Italian cuisine, there are different regions that bring their own typical dish to the table. The cooking methods in the Mediterranean regions are simple: they reveal the delicious aromas and flavors of fresh ingredients.
Inside the cookbook, you can indulge yourself with recipes ranging from meat to fish, from salads to desserts.
Impress your family or friends with the help of the cookbook by presenting your regional Mediterranean dishes, you will get a sense of gratification after tasting them from your loved ones.
It comes close to keto cuisine, in fact, in addition to Mediterranean recipes, I wanted to put them right next to keto recipes, as a result, there are many dishes that you can use for a good basic ketogenic diet.
Buy it NOW
to this amazing