Don't Tell the Nazis (Paperback)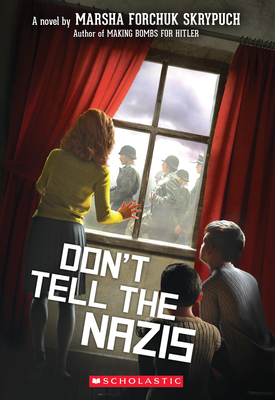 $8.99

NOT on our shelves now. Usually ships from warehouse in several days.
Description
---
Marsha Forchuk Skrypuch (author of
Making Bombs for Hitler
) crafts a story of ultimate compassion and sacrifice based on true events during WWII.
The year is 1941. Krystia lives in a small Ukrainian village under the cruel -- sometimes violent -- occupation of the Soviets. So when the Nazis march into town to liberate them, many of Krystia's neighbors welcome the troops with celebrations, hoping for a better life.
But conditions don't improve as expected. Krystia's friend Dolik and the other Jewish people in town warn that their new occupiers may only bring darker days.
The worst begins to happen when the Nazis blame the Jews for murders they didn't commit. As the Nazis force Jews into a ghetto, Krystia does what she can to help Dolik and his family. But what they really need is a place to hide. Faced with unimaginable tyranny and cruelty, will Krystia risk everything to protect her friends and neighbors?
About the Author
---
MARSHA FORCHUK SKRYPUCH is a Ukrainian Canadian author acclaimed for her nonfiction and historical fiction, including Making Bombs for Hitler (Faire des bombes pour Hitler), The War Below (Soldat clandestin), Stolen Child (Enfant volée,et), and Don't Tell the Enemy (Ne dis rien l'ennemi). Marsha lives in Brantford, Ontario, and you can visit her online at www.calla.com.
.
Praise For…
---
Praise for Don't Tell the Nazis:
Short-listed, Snow Willow Award (Saskatchewan Young Readers' Choice), 2020
Short-listed, Manitoba Young Readers' Choice Award, 2020
Short-listed, Geoffrey Bilson Award for Historical Fiction for Young People, 2019
Short-listed, OLA Red Maple Award, Fiction, 2019
Commended, Best Books for Kids and Teens, Canadian Children's Book Centre, 2018
Praise for The War Below:
"Skrypuch offers a compelling, visceral novel of survival that provides an unusual view of the war... The suspenseful story carries the reader along to its satisfying conclusion." -- Booklist
"Skrypuch continues to shed light on the double jeopardy that many Ukrainians experienced... A page-turning window into a complex piece of World War II history." -- Kirkus Reviews
"This story, full of numerous acts of compassion and valor, sheds welcome light on a less familiar battleground of World War II." -- Publishers Weekly
"A riveting read." -- YA Books Central
Praise for Making Bombs for Hitler:
"A gripping story that asks: What would you do to survive?" -- Alan Gratz, author of Prisoner B-3087
"Inspired by real, historical accounts, this is a powerful, harrowing story of transformation." -- Booklist
"Skrypuch draws on real-life stories of survivors in telling Lida's poignant tale, and she creates a cast of young people who are devoted to one another in both thought and deed.... A well-told story of persistence, lost innocence, survival, and hope." -- Kirkus Reviews
"The story [has a] strong undercurrent of friendship and loyalty; an author's note gives further background on this important piece of history." -- Publishers Weekly
"Students will admire Lida's pluck amid such heinous conditions.... An absorbing read about the lesser-known Ukrainian experience during World War II, this is a solid choice for curricular ties and for middle school historical fiction collections." -- School Library Journal
"Skrypuch has written a gripping, emotional novel of one Ukrainian girl's perseverance during the horrors of war.... This is a vivid picture of what youth experienced during World War II and the hopelessness of displaced populations of all backgrounds and religions." -- Voice of Youth Advocates
Praise for Don't Tell the Nazis:
Short-listed, Snow Willow Award (Saskatchewan Young Readers' Choice), 2020
Short-listed, Manitoba Young Readers' Choice Award, 2020
Short-listed, Geoffrey Bilson Award for Historical Fiction for Young People, 2019
Short-listed, OLA Red Maple Award, Fiction, 2019
Commended, Best Books for Kids and Teens, Canadian Children's Book Centre, 2018
Praise for The War Below:
"Skrypuch offers a compelling, visceral novel of survival that provides an unusual view of the war... The suspenseful story carries the reader along to its satisfying conclusion." -- Booklist
"Skrypuch continues to shed light on the double jeopardy that many Ukrainians experienced... A page-turning window into a complex piece of World War II history." -- Kirkus Reviews
"This story, full of numerous acts of compassion and valor, sheds welcome light on a less familiar battleground of World War II." -- Publishers Weekly
"A riveting read." -- YA Books Central
Praise for Making Bombs for Hitler:
"A gripping story that asks: What would you do to survive?" -- Alan Gratz, author of Prisoner B-3087
"Inspired by real, historical accounts, this is a powerful, harrowing story of transformation." -- Booklist
"Skrypuch draws on real-life stories of survivors in telling Lida's poignant tale, and she creates a cast of young people who are devoted to one another in both thought and deed.... A well-told story of persistence, lost innocence, survival, and hope." -- Kirkus Reviews
"The story [has a] strong undercurrent of friendship and loyalty; an author's note gives further background on this important piece of history." -- Publishers Weekly
"Students will admire Lida's pluck amid such heinous conditions.... An absorbing read about the lesser-known Ukrainian experience during World War II, this is a solid choice for curricular ties and for middle school historical fiction collections." -- School Library Journal
"Skrypuch has written a gripping, emotional novel of one Ukrainian girl's perseverance during the horrors of war.... This is a vivid picture of what youth experienced during World War II and the hopelessness of displaced populations of all backgrounds and religions." -- Voice of Youth Advocates