The Golden Ass (Paperback)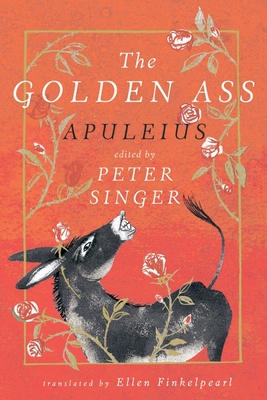 Description
---
"Think of Anna Sewell's Black Beauty, throw in generous helpings of humor, sex, and magic, and you might get a rough idea of what The Golden Ass is like." —Peter Singer
Peter Singer and Ellen Finkelpearl breathe new life into Apuleius's The Golden Ass—a hilarious, bawdy tale and one of the earliest novels—accentuating its remarkable empathy for animals.
Conceived at the zenith of the Roman Empire, Apuleius's The Golden Ass—a bawdy, comic romp centered on a man-turned-animal—is the only ancient work of fiction in Latin that survives in its entirety. In playful, evocative prose, the novel recounts the travails of Lucius, a young man whose insatiable fascination with the occult results in his accidental transformation into an ass.
So entrapped, Lucius embarks on a hair-raising and at times outrageous adventure, encountering sadistic thieves who beat him mercilessly and plot to throw him over a cliff; a miller who works his human and animal slaves to death (until his wife, caught in an act of adultery, resorts to magic to bring him down); a noblewoman who fancies him; poverty-stricken merchants and a Roman soldier; and finally, the Egyptian goddess Isis.
Peter Singer, the world-renowned philosopher and author of Animal Liberation, was initially drawn to The Golden Ass by virtue of its historically significant early portrayal of the life of an abused animal. He was soon stunned to discover that what is arguably the first surviving novel is now little known and even less read. Realizing that Apuleius's tale in its original form is far too complex, Singer decided to streamline it. Assisted by Apuleius scholar Ellen Finkelpearl—who provides a fresh, modern translation, expertly mirroring the florid style of the original—Singer deftly prunes away the many digressions from the main narrative, and in so doing, uncovers the still-beating heart of the text: the highs and lows in the life of an ass, as seen and experienced by the irrepressible Lucius.
Featuring delightful new illustrations drawn by the prize-winning artists Anna and Varvara Kendel, this newly-rendered edition brilliantly reintroduces a forgotten classic. Whether interested in tales of animals, magic, or life in Roman times, readers will be charmed by the hilarious and risqué misadventures of Lucius—before, during, and after becoming a donkey.
About the Author
---
Apuleius (124–170 CE) was an African novelist, philosopher, and rhetorician.

Peter Singer, an Australian philosopher, is currently Ira W. DeCamp Professor of Bioethics at Princeton University. He is best known for Animal Liberation, first published in 1975 and widely considered to be the founding statement of the animal rights movement; and for The Life You Can Save, which led him to found the charity of the same name. His other books include Practical Ethics, The Most Good You Can Do, and the two books co-authored with Katarzyna de Lazari- Radek. In 2005, Time magazine named him one of the World's 100 Most Influential People.

Ellen Finkelpearl is the Helen Chandler Garland Professor of Ancient Studies at Scripps College, and a scholar of Apuleius.

Anna and Varvara Kendel are twin sisters who graduated from the Stieglitz Academy of Arts in St. Petersburg, and do illustrations together. Working with the best Russian publishers, they have illustrated more than seven books and won prizes at international art competitions.