The Wall: A Novel (Hardcover)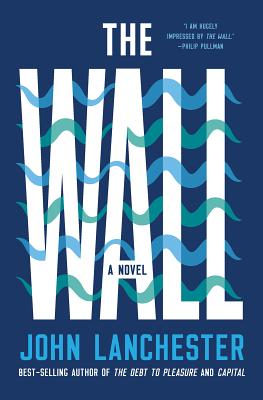 $25.95

NOT on our shelves now. Usually ships from warehouse in several days.
So, let's say we build a wall. A great big beautiful wall all around the country. What then? A wall without soldiers is just a physical barrier, not very hard to cross. So we staff the wall with an appropriate amount of soldiers. And to make the soldiers effective, they'll need ammunition, and a clearly defined set of orders to defend the homeland at all costs. What does that say about a country, that it is so afraid of 'the other' that it is willing to kill to defend what it sees as its rightful way of life? And what does one do with the 'others' who make it across the border? Sometimes the only difference between "us" and "them" is pure chance and luck. John Lanchester writes a tale eerily appropriate for our not so distant future.
-Martin & Jessica
Description
---
An NPR "Favorite Books of the Year" and Financial Times "Best Fiction of the Year" selection.



The best-selling author of The Debt to Pleasure and Capital returns with a chilling fable for our time.
Ravaged by the Change, an island nation in a time very like our own has built the Wall—an enormous concrete barrier around its entire coastline. Joseph Kavanagh, a new Defender, has one task: to protect his section of the Wall from the Others, the desperate souls who are trapped amid the rising seas outside and are a constant threat. Failure will result in death or a fate perhaps worse: being put to sea and made an Other himself. Beset by cold, loneliness, and fear, Kavanagh tries to fulfill his duties to his demanding Captain and Sergeant, even as he grows closer to his fellow Defenders. A dark part of him wonders whether it would be interesting if something did happen, if they came, if he had to fight for his life…
John Lanchester—acclaimed as "an elegant and wonderfully witty writer" (New York Times) and "a writer of rare intelligence" (Los Angeles Times)—has written a taut, hypnotic novel of a broken world and what might be found when all is lost. The Wall blends the most compelling issues of our time—rising waters, rising fear, rising political division—into a suspenseful story of love, trust, and survival.
About the Author
---
John Lanchester  is the author of five novels, including The Debt to Pleasure and Capital. His books have been translated into more than twenty-five languages, and he is a regular contributor to The New Yorker and the New York Review of Books. He lives in London.
Praise For…
---
Lanchester's novel…elegantly and chillingly imagines how current political attitudes might play out as the repercussions of climate change grow more severe.
— New York Times

Gripping…Full of tense action and sudden reversals…Few readers will stop until they reach its final page.
— Alec Nevala-Lee - New York Times Book Review

Thrilling…A topical and deftly satirical novel.
— Anna Mundow - Wall Street Journal

As in all good dystopian fiction, Lanchester shows us a world that could become a reality…[He] maintains measured, elegant prose–creating an assuredly human dystopian novel.
— Lucas Wittmann - TIME

[A] taut tale…It's not clear what it will take to finally convince us that it's time to panic about climate change, but works of fiction such as The Wall have an important role to play.

— Stephen Dyson - Washington Post

Bold and confident fiction that highlights the current American and British issues of Trumpism and Brexit. 
— Los Angeles Times

A chilling reminder of the ease with which myopia can turn to dystopia.
— Michael Magras - Houston Chronicle

Chillingly real.
— Boris Kachka - New York magazine

An utterly persuasive story set in a dystopic future. Unputdownable. It's 1984 for our times.

— Michael Lewis

In The Wall, John Lanchester takes our current political climate to its terrible and logical extreme. A harrowing, brilliant, and troublingly plausible vision of the future.

— Emily St. John Mandel

The Wall is something new: almost an allegory, almost a dystopian-future warning, partly an elegant study of the nature of storytelling itself. I was hugely impressed by it.

— Philip Pullman