Practice Makes Perfect: Spanish Vocabulary, Premium Fourth Edition (Paperback)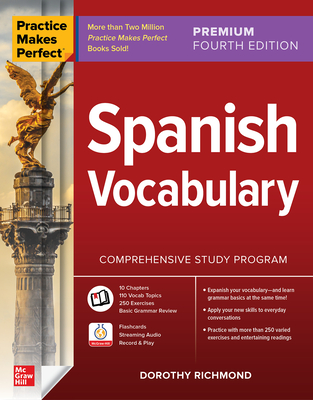 $18.00

Click the TITLE to view store availability
Description
---
Expand your Spanish vocabulary and sharpen your writing and speaking skills with the best review and practice workbook for beginning and advanced-beginning students
Now in its fourth edition,
Practice Makes Perfect: Spanish Vocabulary
is the go-to review and practice workbook for beginning and advanced-beginning level learners of Spanish, giving you a solid foundation to communicate comfortably in Spanish, verbally or in writing. Each chapter of this comprehensive book focuses on a theme, ranging from family and travel, to school, work, and the environment, on which you can build your language skills in a systematic manner. As you lay the foundation for an ever-growing vocabulary, you'll consolidate your knowledge with plenty of exercises to gain the confidence you need to converse with confidence. Boost your mastery of the Spanish language with
Practice Makes Perfect: Spanish Vocabulary, Premium Fourth Edition.
Features:
Helps you build fluency with themed chapters to grow your skills in a systematic progression
Covers the latest vocabulary in evolving areas, such as technology, communications and the media
Develops your active Spanish vocabulary with more than 240 engaging exercises
New: Audio answer key to 70 exercises to help with pronunciation skills and memorization, via app

About the Author
---
Dorothy Richmond is an experienced teacher of Spanish and best-selling author of Spanish language-learning grammars.