Suicide Club: A Novel About Living (Hardcover)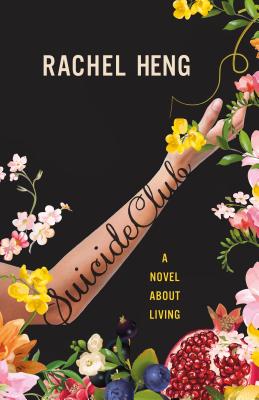 $29.70

NOT on our shelves now. Usually ships from warehouse in several days.
Description
---
"A provocative new author. A fascinating debut novel. Read it!" —Jeff VanderMeer

In Rachel Heng's debut set in near future New York City—where lives last three hundred years and the pursuit of immortality is all-consuming—Lea must choose between her estranged father and her chance to live forever.

Lea Kirino is a "Lifer," which means that a roll of the genetic dice has given her the potential to live forever—if she does everything right. And Lea is an overachiever. She's a successful trader on the New York exchange—where instead of stocks, human organs are now bought and sold—she has a beautiful apartment, and a fiancé who rivals her in genetic perfection. And with the right balance of HealthTech™, rigorous juicing, and low-impact exercise, she might never die.
But Lea's perfect life is turned upside down when she spots her estranged father on a crowded sidewalk. His return marks the beginning of her downfall as she is drawn into his mysterious world of the Suicide Club, a network of powerful individuals and rebels who reject society's pursuit of immortality, and instead choose to live—and die—on their own terms. In this future world, death is not only taboo; it's also highly illegal. Soon Lea is forced to choose between a sanitized immortal existence and a short, bittersweet time with a man she has never really known, but who is the only family she has left in the world.
About the Author
---
Rachel Heng's debut novel, Suicide Club, was published by Henry Holt in July 2018, will be translated in eight languages worldwide and has been featured as a most anticipated summer read by ELLE, Gizmodo, Bitch Media, The Rumpus, NYLON and The Irish Times. Her short fiction has received a Pushcart Prize Special Mention and Prairie Schooner's Jane Geske Award, and has been published in Glimmer Train, The Offing, Prairie Schooner and elsewhere. Rachel is currently a James A. Michener Fellow at the Michener Center for Writers, UT Austin.
Praise For…
---
The Rumpus: What to Read When You've Made it Halfway Through 2018
Bustle: 15 New Books You Need To Know
Bitch Media: 11 Books Feminists Should Read
Book Riot: 10 July New Releases to Put on Hold at the Library Right Now
Nylon: Great Books To Read This Summer
Gizmodo: New Scifi and Fantasy Books to Add to Your Reading List in July
The Millions: Most Anticipated

"SUICIDE CLUB by Rachel Heng...is [a] wildly imaginative and smart and incredibly suspenseful book about living forever that'll change the way you think about every day life."
—Elizabeth McCracken, via Twitter
"SUICIDE CLUB carries echoes of Fight Club, the 1996 novel by Chuck Palahniuk. But the clearest counterpart, perhaps, is Kazuo Ishiguro's 2005 novel, Never Let Me Go...Acerbically funny...SUICIDE CLUB shows the symmetry between upward striving and dark desire, how the fundamentally human pursuit of more—more pleasure, more beauty, more clarity, more life—can manifest at once as self-indulgence and restriction."
—The Atlantic
"Part critique of the American cult of wellness, part glittering future with a nightmare undercurrent, SUICIDE CLUB is nothing if not deeply imaginative and timely."
—The Millions
"Clever, bold and makes you think about the value of life."
—Good Housekeeping
"A fascinating and thought-provoking novel about mortality, connection, and the ability to choose, SUICIDE CLUB is a spellbinding debut readers won't soon forget."
—Bustle

"What if immortality fueled the economy and a government agency created an algorithm that decides who lives forever—and who doesn't? That's the creepy world Rachel Heng constructs in SUICIDE CLUB, a dark novel where the systems of human inequality feel unsettlingly close to current reality."
—Bitch Media
"SUICIDE CLUB is an original and subversive exploration of health obsessions, consumptions, and what makes life worth living."
—The Independent

"A refreshingly original debut."
—Book Riot
"SUICIDE CLUB is a novel of ideas where issues of eugenics and euthanasia are treated sensitively by the author, in a way that recalls Kazuo Ishiguro's Never Let Me Go, or more recently, The Power by Naomi Alderman."
—The Irish Times
"The vivid landscapes of SUICIDE CLUB read like uncanny valley replicas of our current reality—almost recognizable, while just alien enough to be disturbing...As a parable on vanity and aging, SUICIDE CLUB ranks right up there with Oscar Wilde's The Picture of Dorian Gray. As a call to resistance of an altogether bleak capitalist status quo built literally on the bodies of its people, the book feels comparable to Palahniuk's Fight Club or The Matrix. And as a bittersweet yet life-affirming story on eternity vs. death, it feels akin to Natalie Babbitt's Tuck Everlasting."
—The Austin Chronicle

"What is the value of life if it never ends? A feat of blazing imagination, Rachel Heng's SUICIDE CLUB is a thought-provoking look at a near-future society that feels a quarter-turn away from ours. Heng's storytelling gleams, but this novel doesn't shy away from darkness--thank goodness."
—Kelly Luce, author of Pull Me Under
"How can such a young writer know all these things? Rachel Heng's first novel is as keen as a sharpened blade. SUICIDE CLUB is on the money about where our current obsessions are leading us and yet she makes us care about her characters in deep and old-fashioned ways. It reminded me again and again of Orwell and Huxley. I have the feeling that this is the beginning of a long and illustrious career."
—James Magnuson
"I happily lost a whole weekend to SUICIDE CLUB. This life-affirming book about death lingers long after the last page. 'Be careful what you wish for' has never been so chilling, or so gripping."
—Erin Kelly, author of He Said/She Said
"SUICIDE CLUB bends genre with grace and artistry, delivering us to the outermost reaches of what's familiar and affirming what dares to still exist there: family, friendship, and forgiveness. With superb writing, Rachel Heng has crafted a world inside of a world gone mad, one where love faces its most difficult test. This is an exciting, bold, inventive novel."
—Kristen Iskandrian, author of Motherest

"The future is here. Let's welcome one of its stars. Talented and ferociously intelligent, Heng has produced a glittering debut."
—Joanna Briscoe, author of You

"In exquisitely crafted prose, Rachel Heng gives us a startling look at a version of the world that seems simultaneously wild and plausible. Heng is a bold new talent and a writer to watch."
—Liz Moore, author of Heft and The Unseen World

"A Dorian Gray nightmare of a future where the sought-after beauty is barely even skin deep, SUICIDE CLUB is a subversive celebration of life. It makes us consider what's actually valuable, and what 'healthy living' really means. I love novels that tackle this sort of subject matter, and this is one that glitters, darkly."
—Nick Clark Windo, author of The Feed

"I am in awe of the deeply disturbing yet utterly convincing world Heng manages to create. I loved the book's central message: the beauty in imperfection, the importance of letting go. I loved the flawed and fearsome central characters...SUICIDE CLUB is a bold and brilliant book."
—Francesca Jakobi, author of Bitter
"I always love novels that can combine powerful writing with massive levels of compassion and heart, and SUICIDE CLUB is one such book. Its genre-straddling dark heart can't fail to impress."
—James Smythe, author of The Machine and The Testimony

"Heng expertly threads a ribbon of dread through her glittering vistas and gleaming characters...[This is] a complicated and promising debut that spoofs the current health culture craze even as it anticipates its appalling culmination."
—Kirkus

"Fans of modern speculative fiction and readers who love stories that warn us to be careful what we wish for will be enthralled by Heng's highly imaginative debut, which deftly asks, "What does it really mean to be alive?"
—Library Journal, starred review