Six Four: A Novel (Paperback)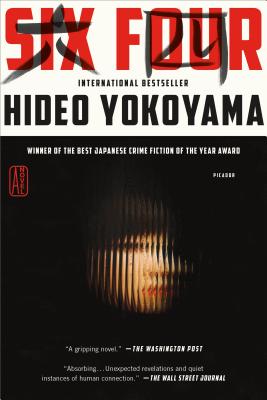 Description
---
International Bestseller • One of New York Times Book Review's 100 Notable Books of the Year
Winner of the Best Japanese Crime Fiction of the Year Award
An Award-Winning Phenomenon in Its Native Japan and Already a Critically Celebrated Top-Ten Bestseller in the United Kingdom, Hideo Yokoyama's Six Four is an Unforgettable Novel by a Literary Master at the Top of His Form.
For five days, the parents of a seven-year-old Japanese schoolgirl sat and listened to the demands of their daughter's kidnapper. They would never learn his identity. And they would never see their daughter alive again.
Fourteen years later, the mystery remains unsolved. The police department's press officer—Yoshinobu Mikami, a former detective who was involved in the original case and who is now himself the father of a missing daughter—is forced to revisit the botched investigation. The stigma of the case known as "Six Four" has never faded; the police's failure remains a profound source of shame and an unending collective responsibility.
Mikami does not aspire to solve the crime. He has worked in the department for his entire career, and while he has his own ambitions and loyalties, he is hoping simply to reach out to the victim's family and to help finally put the notorious case to rest. But when he spots an anomaly in the files, he uncovers secrets he never could have imagined. He would never have even looked if he'd known what he would find.
"Already a bestseller in Japan and the United Kingdom, this cinematic crime novel suffused with fascinating cultural details follows a police department reinvestigating a chilling kidnapping that stumped them fourteen years earlier." —Entertainment Weekly's The Must List
About the Author
---
Born in 1957, Hideo Yokoyama worked for twelve years as an investigative reporter with a regional newspaper north of Tokyo, before becoming one of Japan's most acclaimed fiction writers. His exhaustive and relentless work ethic is known to mirror the intense and obsessive behavior of his characters, and in January 2003 he was hospitalized following a heart attack brought about by working nonstop for seventy-two hours. Six Four is his sixth novel, and his first to be published in the English language, followed by Seventeen.
Praise For…
---
"A real, out-of-the-blue original. I've never read anything like it. Yokoyama ?[is] a master."? —Terrence Rafferty, The New York Times Book Review (front cover review)
"Absorbing . . . Six Four is an intensely complicated work, fleshed out by dozens of well-sketched characters, filled with changing perceptions and surprising twists . . . Its rewards are commensurate: unexpected revelations and quiet instances of human connection." —Tom Nolan, The Wall Street Journal, The Best New Mysteries
"Six Four avoids every crime-fiction cliché. The reward is a gripping novel . . . Complex, ingenious and engrossing . . . strikingly original . . . Jonathan Lloyd-Davies has translated Six Four with unobtrusive brio . . . Yokoyama possesses that elusive trait of a first-rate novelist: the ability to grab readers' interest and never let go." —Dennis Drabelle, The Washington Post
"Already a bestseller in Japan and the U.K., this cinematic crime novel suffused with fascinating cultural details follows a police department reinvestigating a chilling kidnapping that stumped them 14 years earlier." —Entertainment Weekly, The Must List
"Six Four arrives in America as one of the most anticipated titles of the year . . . Yokoyama's novel is a Jenga tower, each plot point and peripheral character part of an intricate balance . . . What is perhaps most striking about Six Four is the number of stories it contains." —Dotun Akintoye, O: The Oprah magazine
"Six Four makes its U.S. debut four years after it came out in Japan, where it was a literary blockbuster. The book sold more than a million copies and was adapted both for film and for TV. Part of its appeal was the way it illuminated the country's deep tradition of hierarchy and control." —Sarah Begley, Time magazine
"Not only is Six Four an addictive read, it is an education about Japan, its police and its society, and simply one of the best crime novels I have ever read." —David Peace, author of GB84 and The Damned Utd
"A classic plot [which] suddenly turns into one of the most remarkable revenge dramas in modern detective fiction…[It] will leave even the most observant reader gasping." —The Sunday Times
"Epic in ambition, [Six Four] unfurls like a flower in the spring sunlight, steadily increasing its grip as it does so." —Daily Mail
"Hideo Yokoyama's Six Four, translated by Jonathan Lloyd-Davies, is by no means just another mystery novel, but rather an award-winning cultural phenomenon on the scale of Stieg Larsson's Millennium Trilogy . . . There is a lot of buzz around this book, all of it well deserved . . . Yokoyama's prose is crisp and skillfully translated; the plot . . . is thoroughly believable and compelling." —Bruce Tierney, BookPage (Top Pick in Mystery)
"Extremely detailed style and carefully wrought characters. Six Four succeeds on several levels: as a police procedural, an incisive character study, and a cold-case mystery." —Jane Murphy, Booklist
"[Six Four] takes leisurely twists into the well-kept offices of Japan's elite while providing a kind of informal sociological treatise on crime and punishment in Japanese society, to say nothing of an inside view of the police and their testy relationship with the media. Elaborate, but worth the effort. Think Jo Nesbø by way of Haruki Murakami, and with a most satisfying payoff." —Kirkus Reviews