The Kingdom: A Novel (Paperback)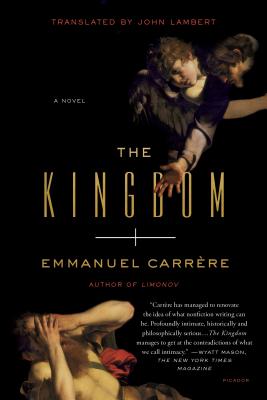 List Price: $21.00
Our Price: $18.00
(Save: $3.00 14%)
On Our Shelves Now.
(This book cannot be returned nor exchanged.)
Description
---
A sweeping fictional account of the early Christians, whose unlikely beliefs conquered the world

Gripped by the tale of a Messiah whose blood we drink and body we eat, the genre-defying author Emmanuel Carrère revisits the story of the early Church in his latest work. With an idiosyncratic and at times iconoclastic take on the charms and foibles of the Church fathers, Carrère ferries readers through his "doors" into the biblical narrative. Once inside, he follows the ragtag group of early Christians through the tumultuous days of the faith's founding.

Shouldering biblical scholarship like a camcorder, Carrère re-creates the climate of the New Testament with the acumen of a seasoned storyteller, intertwining his own account of reckoning with the central tenets of the faith with the lives of the first Christians. Carrère puts himself in the shoes of Saint Paul and above all Saint Luke, charting Luke's encounter with the marginal Jewish sect that eventually became Christianity, and retracing his investigation of its founder, an obscure religious freak who died under notorious circumstances.

Boldly blending scholarship with speculation, memoir with journalistic muckraking, Carrère sets out on a headlong chase through the latter part of the Bible, drawing out protagonists who believed they were caught up in the most important events of their time. An expansive and clever meditation on belief, The Kingdom chronicles the advent of a religion, and the ongoing quest to find a place within it.
About the Author
---
Emmanuel Carrère, novelist, filmmaker, journalist, and biographer, is the award-winning internationally renowned author of 97,196 Words, The Adversary (a New York Times Notable Book), Lives Other Than My Own, My Life As A Russian Novel, Class Trip, and The Mustache. Carrère lives in Paris.

John Lambert has translated Monsieur, Reticence, and Self-Portrait Abroad by Jean-Philippe Toussaint, as well as Emmanuel Carrère's Limonov. He lives in Nantes with his wife and three children.
Praise For…
---
"Carrère has managed to renovate the idea of what nonfiction writing can be. Profoundly intimate, historically and philosophically serious but able to cast compulsive narrative spells, Carrère's books are hybrids, marrying deep reporting to scholarly explorations of theology, philosophy, psychology, personal history and historiography . . . Carrère has managed to write one masterpiece after another . . ." —Wyatt Mason, The New York Times Magazine

"To open the pages of this book is to fall into a world of speculation, memoir, history, and belief and disbelief in untidy measures. . . . a masterwork that takes readers into the heart of Christianity's first days, as well into the depths of the author's psyche. . . . The only category it really belongs in is tour de force." —Ilene Cooper, Booklist (starred review)

"Memoir, fiction, and history combine in a stirring portrayal of the world of the first Christians . . . A passionate, digressive, empathetic history of religious rebels and the mystery of faith." —Kirkus Reviews (starred Review)

"The latest from Carrère (Limonov) is a tale of modern and ancient Christianity, filtered through a text that's equal parts memoir, academic essay, and fictional exploration. . . . a frequently fascinating book written by a curious, sharp mind." —Publishers Weekly

"Emmanuel Carrère [is] one of the best known and most innovative French writers." —Rachel Donadio, The New York Times

"I left the Catholic Church at thirteen and have not spent much time thinking about religion since then. But Emmanuel Carrère's The Kingdom kept me pinned to its pages until the end. It is personal and rigorous, skeptical and open, casual and profound, and its speculative portrait of Saint Luke, its main character, is as compelling as any fictional life I've read lately." —Luc Sante, author of The Other Paris

"My favorite books about Christianity are Augustine's Confessions, Origen's Contra Celsum, and, now, Emmanuel Carrère's The Kingdom. Both a pocket history and a gripping (and surprising!) intellectual self-portrait, I know of nothing else quite like it —and I wish like all hell I'd written it. Carrère is one of our planet's most compelling, inimitable writers, and The Kingdom is, in my view, his greatest book yet." —Tom Bissell, author of Apostle: Travels Among the Tombs of the Twelve