This Close to Happy: A Reckoning with Depression (Paperback)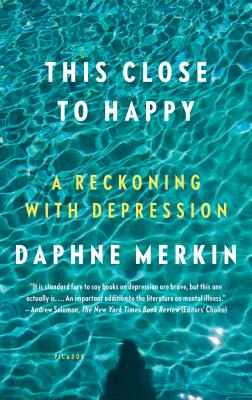 $17.00

ON HAND in at least ONE of our stores. Click through or call for up-to-the-minute availability.
Description
---
"One of the most accurate, and therefore most harrowing, accounts of depression to be written in the last century...Ms. Merkin speaks candidly and beautifully about aspects of the human condition that usually remain pointedly silent (John Kaag, The Wall Street Journal).

Daphne Merkin has been hospitalized three times: first, in grade school, for childhood depression; years later, after her daughter was born, for severe postpartum depression; and later still, after her mother died, for obsessive suicidal thinking. The arc of Merkin's affliction is lifelong, beginning in a childhood largely bereft of love and stretching into the present, where Merkin lives a high-functioning life and her depression is manageable, if not "cured." In this dark yet vital memoir, Merkin describes not only the harrowing sorrow that she has known all her life, but also her early, redemptive love of reading and gradual emergence as a writer. Written with an acute understanding of the ways in which her condition has evolved as well as affected those around her, This Close to Happy is an utterly candid coming-to-terms with an illness that many share but few talk about, one that remains shrouded in stigma.

"It is standard fare to say books on depression are brave, but this one actually is....An important addition to the literature on mental illness."—Andrew Solomon, The New York Times Book Review (Editors' Choice)
About the Author
---
Daphne Merkin is the author of the novel Enchantment, which won the Edward Lewis Wallant Award for best novel on a Jewish theme, as well as two collections of essays, and a memoir, This Close to Happy. A former staff writer for The New Yorker, her essays frequently appear in The New York Times, Bookforum, The New Republic, Departures, ELLE, Travel + Leisure, Tablet, and many other publications. Merkin has taught writing at the 92nd Street Y, Marymount Manhattan College, and Hunter College, and she currently teaches at Columbia University's MFA program. She lives in New York City.
Praise For…
---
"[Merkin narrates] with insight, grace and excruciating clarity, in exquisite and sometimes darkly humorous prose . . . For all its highly personal focus, [This Close to Happy] is an important addition to the literature of mental illness." —Andrew Solomon, The New York Times Book Review (cover review)

"I will not be the last to thank Ms. Merkin for resisting this desire [to die] long enough to give us what is one of the most accurate, and therefore most harrowing, accounts of depression to be written in the last century . . . Ms. Merkin speaks candidly and beautifully about aspects of the human condition that usually remain pointedly silent." —John Kaag, Wall Street Journal

"Wry, self-aware . . . a work of lacerating intelligence about a condition that intellect cannot heal." —The New Yorker

"[A] triumph on many levels . . . As insightful and beautifully written as it is brave . . . This Close to Happyearns a place among the canon of books on depression . . . books that offer comfort to fellow depressives and elucidation for those lucky enough to have dodged its scourge." —Heller McAlpin, Washington Post

"[A] stunning self-portrait." —Christian Lorentzen, New York

"A hybrid of memoir, case study, and confession, which joins such classics as Kay Redfield Jamison's An Unquiet Mind and Andrew Solomon's The Noonday Demon in the contemporary literature of depression. . . Merkin has written [a book] that will illuminate, challenge, and possibly even console." —Adam Kirsch, Tablet

"[This Close to Happy is] a testament to Merkin's commitment to capturing the grim distortions that depression can produce. . . This Close to Happy is more than a memoir of mental illness. Merkin is a good writer—perceptive, provocative, relentlessly interrogative of her own experience—and despite her difficult subject matter, she does, in this memoir, what good writers do: she sends urgent, cogent dispatches from another world, a protracted battlefield that we might not otherwise know about." —Lisa Fetchko, Los Angeles Review of Books

"[A] compelling chronicle . . . Merkin's work is unique in describing the mundane burden of a deeply felt and closely observed life lived with depression . . . [H]er account of depression is both personal, literary and, at the same time, existential." —Tom Teicholz, Forbes

"Merkin is a wonderful writer whose keen eye for detail and human foibles enables her to brilliantly light her subject. . . . In page after page, she delivers elegant, evocative prose." —Psychology Today

"This Close to Happy is as illuminating and hard to put down as it is painful." —People

"Merkin is a fine stylist . . . She has at her disposal wide-ranging allusions, and she draws on poetry with a charming ease, a frankness that assumes her reader's sophistication, even as she capably holds the reader's hand and clarifies the relevance of a particular reference." —Forward

"Daphne Merkin exhibits shocking honesty in allowing readers to look into her journey. . . Her depth of writing experience on the topic comes through in emotion-packed prose . . . This book offers the education necessary for readers need to follow depression as it rises and falls in one woman's life, as well as in the lives of thousands of others." —Wyatt Massey, America Magazine

"Merkin's deeply intimate account of living with clinical depression is illuminating, heartbreaking, and powerfully written. With lively prose and shrewd observations . . . Merkin's exploration into her complicated yet unconditional devotion to her mother is rendered with compassion and profound perception. Merkin eloquently blends the personal with the researched; her intellectual tenacity and emotional rawness impress as much as they entertain. This book is a wonderful addition to literature about the unrelenting battle against depression." —Publishers Weekly (starred review)

"Dark thoughts hover over virtually every page of this mesmerizing memoir, and yet there is also the very real possibility of hope. . . Merkin's exceptional book belongs on the same shelf as such classics as William Styron's Darkness Visible (1990) and Kay Redfield Jamison's An Unquiet Mind (1995)." —Booklist (starred review)

"[Merkin] has a signature method to her writing, one that exuberantly crosshatches high- and lowbrow, and one that reveals and protects in equal measure." —Bookforum

"Opening This Close to Happy was like getting a long letter from my best friend at sleepaway camp. I had no idea it was this bad for you, was my first thought, and then, we have both been so paralyzed by grief. This is why we all feel so lonely right now—the longing, the depression, the comedy of it all, wrapped up in a story about sex and Judaism, our mothers. I felt so whole when snuggling up alone with Merkin's brilliant, full-of-feeling masterpiece. I flew through it and hated to let go when it ended." —Jill Soloway

"Fierce, clear-eyed, and beautifully honest, Daphne Merkin's is an essential voice. This Close to Happy, a lucid and elegantly written account of her lifelong struggles withdepression, unsettles and illuminates in equal measure. This is an important book." —Claire Messud

"If the face presented to the world is a mask to protect ourselves, Daphne Merkin bravely removes hers, revealing the truth of herself, courageously exploring, seeking—and sometimes even finding—the hope that glimmers at the end of the tunnel. Please read as soon as possible." —Gloria Vanderbilt

"This beautifully written tale of Daphne Merkin's depressive demons is by far the most accurate and human account of depression and its impact that I have ever read. I highly recommend it, both to those in the mental health professions and to those who care about the suffering of their loved ones." —Glen O. Gabbard, M.D.

"The greatness of this book is in the way Merkin takes the measure of the adversary." —Peter Sacks

"D. W. Winnicott wrote that depression is the fog over the battlefield. In this extraordinarily lucid and moving book, Daphne Merkin illuminates the dark and desperate battle that depression can be. This is a book for all those who know nothing about depression and for those who know too much." —Adam Phillips

"This Close to Happy belongs on the shelf with William Styron's Darkness, Visible and Andrew Solomon's The Noonday Demon. It brings a stunningly perceptive voice to the forefront of the conversation about depression, one that is both reassuring and revelatory." —Carol Gilligan, author of In a Different Voice

"This Close to Happy is honest, fearless in the way we have come to expect from Daphne Merkin, and, as a bonus, frankly informative. From Merkin we get the inside view of navigating a chronic psychiatric illness to a realistic outcome. As she writes, 'the opposite of depression is not a state of unimaginable happiness, but a state of relative all-right-ness.' For some, that insight alone will speak volumes. Her candor discussing the fears, tribulations, and triumphs of a lifetime of treatment will be valuable for anyone who loves someone with depression but makes necessary reading for the mental health professionals on the other side of the couch." —Harold S. Koplewicz, M.D., President, Child Mind Institute