Letters to a Young Muslim (Hardcover)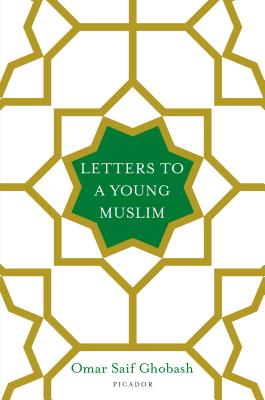 $24.20
Temporarily Unavailable
Description
---
**A New York Times Editor's Pick**

**One of Time's Most Anticipated Books of 2017, a Bustle Best Nonfiction Pick for January 2017, a Chicago Review of Books Best Book to Read in January 2017, an Amazon Best of January 2017 in History, a Stylist Magazine Best Book of 2017, included in New Statesman's What to Read in 2017**

From the Ambassador of the UAE to Russia comes Letters to a Young Muslim, a bold and intimate exploration of what it means to be a Muslim in the twenty-first century.

In a series of personal and insightful letters to his sons, Omar Saif Ghobash offers a vital manifesto that tackles the dilemmas facing not only young Muslims but everyone navigating the complexities of today's world. Full of wisdom and thoughtful reflections on faith, culture and society. This is a courageous and essential book that celebrates individuality whilst recognising it is our shared humanity that brings us together.

Written with the experience of a diplomat and the personal responsibility of a father; Ghobash's letters offer understanding and balance in a world that rarely offers any. An intimate and hopeful glimpse into a sphere many are unfamiliar with; it provides an understanding of the everyday struggles Muslims face around the globe.
About the Author
---
OMAR SAIF GHOBASH is the Ambassador of the United Arab Emirates to Russia. In addition to his post in Moscow, Ambassador Ghobash sponsors the Saif Ghobash–Banipal Prize for Arabic Literary Translation and is a founding trustee of the International Prize for Arabic Fiction in collaboration with the Booker Prize in London. Ambassador Ghobash studied law at Oxford and math at the University of London.
Praise For…
---
"A gentle, cautious work, which addresses thorny questions with a parent's compassion and a diplomat's delicate tread." —Harper's

"Ghobash encourages the reader to accept a modern, enlightened path that embraces diversity, not just within Islam but among all religions…It is this sort of wisdom that creates hope for a world in which people are smart enough to work together toward a common good rather than claw at one another while slowly sinking in quicksand." —Kareem Abdul-Jabbar, The New York Times Book Review

"Ghobash encourages a search for nuance in a world consumed with a polarizing, partisan us-versus-them mentality. This is not another exhausting cri de coeur about why Muslims deserve sympathy. It's something more personal and intimate than that: a collection of letters from a father trying to empower his son to challenge an aggressive Islamist movement while simultaneously navigating oversimplified narratives surrounding his religion." —Slate

"Letters to a Young Muslim is much more than a father's advice to his impressionable young sons. It is a call to a generation of Muslims to reclaim their faith from the bigots and assert their individuality. It is a powerful celebration of common humanity and compassion over religious particularity and hatred and deserves to be read widely by people of all faiths and none." —The Sunday Times Book Review

"'I think that we need to look at Charlie Hebdo, and the Bataclan, and Orlando and ask ourselves if this is not precisely what some of us are taught by our religious leaders.' When an Arab diplomat has the courage to raise questions such as this, we must all pay attention and express admiration. To ask, as Omar Ghobash does, why the Islamic world in his lifetime has been so riven by violence, and to say that at least part of the answer lies within Muslim societies, is more than an act of bravery. It constitutes a clear step in the direction of a desperately needed social and religious reformation. Every Muslim, stands to gain from Ghobash's call for an improved and more individualistic approach to Islam." —Niall Ferguson, senior fellow at the Hoover Institution, Stanford

"Thoughtful reflections by a Muslim diplomat about questions of faith, culture, and modernity. Letters to a Young Muslim is a personal testimony to the debate unfolding in the Arab world about the identity of the state and the role of the sacred in the private and public sphere. An informative memoirs." —Fawaz A. Gerges, Professor of International Relations at the London School of Economics and Political Science

"Letters to a Young Muslim is an honest and self-critical guide to the dilemmas facing young Muslims around the world. The book is full of brave questions, wisdom, and perhaps most importantly, it is a sincere father's heartfelt yearning for his sons' generation to resist the rise of theocratic fascism." —Ed Husain, author of The Islamist

"At once a cri de coeur, an honest critique of self and society but his insights can also serve as a road map for the future of Muslim societies. Drawing on his own life experiences, Ghobash in a series of beautifully written letters to his sons addresses some of the most pressing issues about Islam as a faith tradition in a cosmopolitan world. Unsurpassed in its candidness, Ghobash is a rare voice among Arab leaders who is confident and ready to tackle major challenges such as religiously motivated violence, democracy, freedom, faith, doubt and cosmopolitanism with wisdom and courage. A must read for anyone who wants to take the pulse of a crucial region of our world. Refreshing and effortless reading, filled with hope." —Ebrahim Moosa, professor of Islamic Studies and co-director of the Contending Modernities program in the Keough School of Global Affairs at the University of Notre Dame

"Omar Ghobash has written a timely and incisive book about the hopes and aspirations of Muslims beyond the headlines that have shaped Western attitudes towards Islam. Looking at once to both the formative traditions of the Islamic faith, and the challenges the modern world has put before young Muslims, Ghobash provides an empathetic and learned view, one that strives for understanding and balance. Addressing young Muslims, Ghobash provides an intimate and passionate view of Islam looking into the future. At a time when extremism threatens Islam from within and reaction to it isolates Muslims this book is a must read for Muslims and non-Muslims, young and old alike, who are keen to understand how faith binds them and their aspirations could bridge the divide that separates them." —Vali Nasr, Dean and Professor of International Politics at Johns Hopkins University's School of Advanced International Studies
Coverage from NPR