The Next: A Novel (Hardcover)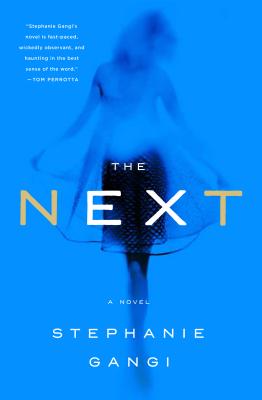 $29.69
Temporarily Unavailable
Description
---
One of Library Journal's "Best Books of 2016"
A Best 35 Over 35 Pick
Blogcritics Best Fiction of the Year

"A novel so startlingly original and so unafraid to approach complicated, bald emotion and anger." —The Brooklyn Rail

"A very cunning variation on the revenge fable." —The New York Times Book Review

"The lusty, livid Joanna is the hottest middle-aged/dead woman in fiction." —The Minneapolis Star Tribune

Is there a right way to die? If so, Joanna DeAngelis has it all wrong. She's consumed by betrayal, spending her numbered days obsessing over Ned McGowan, her much younger ex, and watching him thrive in the spotlight with someone new, while she wastes away. She's every woman scorned, fantasizing about revenge … except she's out of time.

Joanna falls from her life, from the love of her daughters and devoted dog, into an otherworldly landscape, a bleak infinity she can't escape until she rises up and returns and sets it right—makes Ned pay—so she can truly move on.

From the other side into right this minute, Jo embarks on a sexy, spiritual odyssey. As she travels beyond memory, beyond desire, she is transformed into a fierce female force of life, determined to know how to die, happily ever after.
About the Author
---
STEPHANIE GANGI lives, works and writes in New York City. She is the author of the novel The Next.
Praise For…
---
Praise for The Next:

An Indie Next pick
One of Family Circle's "Books We Can't Wait to Read"
A Publishers Lunch Buzz Book
A POPSUGAR Book Pick

"Dripping in psychological genius, this otherworldly novel will leave you mesmerized and entranced under Gangi's ghostly spell." —POPSUGAR

"This is a title worth silencing your smartphone for." —Library Journal (starred review)

"Good fun, good writing, and strong characters keep this high-wire plot aloft." —Kirkus Reviews

"Fast-paced and engrossing." —Booklist

"I love The Next. Well, let me be more specific: I LOVE THE NEXT. Comic, wrenching revenge fantasy; New York City, all around the town; an insightful poodle; the tender reality of motherhood and daughterhood; the less tender reality of social media, and a ghost with the wit of Topper and the fire of Fay Weldon. This is an elegantly written, thoughtfully sharp and surprisingly touching whirlwind of a book." —Cathleen Schine

"Stephanie Gangi's novel is fast-paced, wickedly observant, and haunting in the best sense of the word." —Tom Perrotta

"I was instantly hooked by Gangi's vivid writing, her psychological acumen, and her sharp observation of love and life. She is a fascinating writer who understands love, sex, men and women. I truly could not stop reading. The Next is a riveting debut by a fiercely talented writer." —Erica Jong

"A profound and provocative page-turner about love and loss, revenge and redemption, this debut novel will
stick with you for a long time. Stephanie Gangi is an instant, new favorite." —Emily Giffin

"I love The Next...elegantly written, thoughtfully sharp, surprisingly touching." —Cathleen Schine