The Third Bank of the River: Power and Survival in the Twenty-First-Century Amazon (Paperback)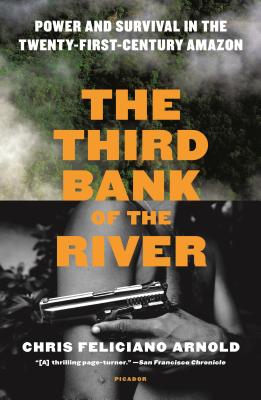 $21.00

NOT on our shelves now. Usually ships from warehouse in several days.
(This book cannot be returned nor exchanged.)
Description
---
A sweeping look at the war over the Amazon—as activists,locals, and indigenous tribes struggle to save it from the threat of loggers, drug lords, and corrupt cops and politicians

Following doctors and detectives, environmental activists and indigenous tribes, The Third Bank of the River traces the history of the Amazon from the arrival of the first Spanish flotilla to the drones that are now mapping unexplored parts of the forest. Grounded in rigorous firsthand reporting and in-depth research, Chris Feliciano Arnold reveals a portrait of Brazil and the Amazon that is complex, bloody, and often tragic.

During the 2014 World Cup, an isolated Amazon tribe emerged from the rain forest on the misty border of Peru and Brazil, escaping massacre at the hands of loggers who wanted their land. A year later, in the jungle capital of Manaus, a bloody weekend of reprisal killings inflame a drug war that has blurred the line between cops and kingpins. Both events reveal the dual struggles of those living in and around the world's largest river. As indigenous tribes lose their ancestral culture and territory to the lure and threat of the outside world, the question arises of how best to save isolated tribes: Keep them away from the modern world or make contact in an effort to save them from extinction? As Brazil looks to be a world leader in the twenty-first century, this magnificent and vast region is mired in chaos and violence that echoes the atrocities that have haunted the rain forest since Europeans first traveled its waters.
About the Author
---
CHRIS FELICIANO ARNOLD has written for The New York Times, Harper's, The Atlantic, Foreign Policy, Outside, Sports Illustrated, Playboy, Vice News, and other outlets, including Folha de S. Paulo, Brazil's largest newspaper. He is the recipient of a 2014 creative writing fellowship from the National Endowment for the Arts. Born in Brazil and raised in the United States, he now resides in northern California.

Chris is the author of The Third Bank of the River.
Praise For…
---
"A valuable addition to contemporary reportage out of Brazil, which has understandably been dominated by the country's tumultuous politics, systemic corruption and rising middle class.... Arnold's account of the threats to indigenous communities—informed by a comprehensive and accessible litany of the abuses they have endured since colonial times—is the highlight of the book."—Ernesto Londono, The New York Times Book Review

"An eye-opening exploration of the Amazon rain forest's underbelly."—National Geographic

"Arnold has crafted a thrilling page-turner while delving into topics that often bypass Brazil's mainstream media...The Third Bank of the River ultimately stands out as an important book for Americans looking to better understand the glorious and troubled nation to their south — in all its complexity."—Bruno Garcez, San Francisco Chronicle

"The Third Bank of the River chronicles [Arnold's] three-year effort to understand the Amazon as it exists today. Through exhaustive research and firsthand reporting, he reveals how drug lords, loggers, politicians, and tribe leaders have shaped the region, weaving together stories hundreds of years old and others he watched unfold, and explores the myriad of issues facing the people who live there."—J.R. Sullivan, Men's Journal

"A wide-ranging panorama of this vast region in western Brazil, so full of both promise and suffering...Astonishing."—BookPage

"[A] journalistic account of the rush to develop the Amazon rainforest and its cost in human lives...[Arnold] draws much-needed attention to crime without punishment in a remote—but not invisible—part of the world."—Kirkus Reviews

"Arnold pulls few punches in this sobering account of the unfolding genocidal threat, adding another dark layer to the urgent story environmentalists are already telling about how the logging of rain forests is playing a drastically destructive role in climate change."—Booklist

"Arnold handles all of the narrative strands expertly and shows a keen eye for detail...The reader leaves with a newfound understanding of the diversity, complexity, and corruption to be found in the modern Amazon."—Publishers Weekly

"The Third Bank of the River is an enlightening narrative that will forever change your perception of the Amazon as an idyllic oasis."—Shelf Awareness (starred review)

"A vital passionate chronicle of life and death in the world's last Wild West."—Jon Lee Anderson, author The Lion's Grave and Guerrillas

"With The Third Bank of the River, Chris Arnold brings us valuable insights into the forces conspiring to devastate the Amazon and the valiant struggle of those seeking to impose the law in a land where the rule of the gun prevails. A real page-turner."—Scott Wallace, author of The Unconquered: In Search of the Amazon's Last Uncontacted Tribes