All That's Left to Tell: A Novel (Hardcover)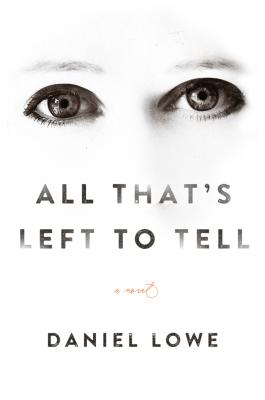 $25.99
Temporarily Unavailable
Description
---
"Like Tim O'Brien's Going After Cacciato, All That's Left to Tell celebrates not just the power of storytelling but the deeply human need for it in even the most dire situations. Alternately gripping and dreamy, Daniel Lowe's debut imagines what the stories we tell reveal about ourselves, and how they may save us."
—Stewart O'Nan, author of West of Sunset

Every night, Marc Laurent, an American taken hostage in Pakistan, is bound and blindfolded. And every night, a woman he knows only as Josephine visits his cell. At first, her questions are mercenary: is there anyone back home who will pay the ransom? But when Marc can offer no name, she asks him a question about his daughter that is even more terrifying than his captivity. And so begins a strange yet increasingly comforting ritual, in which Josephine and Marc tell each other stories. As these stories build upon one another, a father and daughter start to find their way toward understanding each other again.
About the Author
---
Daniel Lowe teaches writing in Pittsburgh, Pennsylvania, and received his MFA in fiction writing from the University of Pittsburgh. His fiction and poetry have appeared in West Branch, The Nebraska Review, The Montana Review, The Wisconsin Review, The Writing Room, The Bridge, The Paterson Literary Review, Ellipsis, Blue Stem, Midway Journal, and The Madison Review. All That's Left to Tell is his debut.
Praise For…
---
Longlisted for the Center for Fiction First Novel Prize

"An American is taken hostage in Pakistan in this captivating page-turner, and as you spiral through an endless, fascinating trail of stories shared between the prisoner and his captor it becomes clear that the relationship between them is far more complex than one could possibly imagine."
—Newsweek, The Best New Book Releases

"A real tale for our times…Lowe's sense of purpose and moral compass may remind readers of Ward Just and Marilynne Robinson; a book that just might be great."
—LitHub

"A refreshing debut novel that should not go unnoticed...Mr. Lowe demonstrates exceptional talent as a wordsmith, and for plotting an intriguing story whose premise invites readers to practice empathy for another by imagining their story. There is much to look forward to in Mr. Lowe's rising talent."
—Pittsburgh Post-Gazette

"A literary Russian nesting doll, with stories embedded within stories."
—Pittsburgh Tribune

"Intense and compelling, Daniel Lowe's debut novel, All That's Left to Tell, is filled with both profound emotional disconnect and insatiable longing."
—Bustle

"Engrossing...Profound...A seductive tale that stays with you, leading us to examine how we make sense of ourselves through our relationships with those most important to us and how we may reckon with them when a life ends."
—Press Association

"Intertwines stories within stories so cleverly that, in the end, both the characters and the reader start to wonder which of the narratives are real and which are imagined."
—Financial Times

"Engrossing . .. A seductive tale that examines how we make sense of ourselves."
—Independent

"In Daniel Lowe's fiction debut, All That's Left to Tell, stories create life, hope, pain, and they bend the mind, as story itself is investigated by the book's telescoping structure of a story within a story, within a story…Lowe's real talents become apparent very quickly."
—Wales Arts Review

"Luscious…Compelling. Lowe's elaborate tapestry showcases humankind's reliance on the power of stories to comfort, correct, and clarify both our hidden feelings and exposed fears. With its shifting points of view and emotional authenticity, Lowe's masterfully crafted first novel will be a surefire hit with book discussion groups."
—Booklist (starred)

"A remarkably accomplished debut."
—Library Journal (starred)

"Captivating…Lowe's prose is evocative, the plot gripping, and the attachment that reaches across the alienation between these characters reaches out to the reader as well. A story about storytelling, stirring and effective."
—Kirkus

"Not since Kevin Brockmeier's The Truth About Celia has a novel made a more dramatic case for the importance of stories as a way to deal with life's tragic events…The characters here remain real and memorable, a credit to Lowe's storytelling skill."
—Publisher's Weekly

"Daniel Lowe's debut novel opens with a fierce, immediate narrative grip that continues to tighten until the book reaches a climax that resonates long after one has closed the cover of this haunted and haunting book."
—Stuart Dybek, author of Paper Lantern and Ecstatic Cahoots

"Like Tim O'Brien's Going After Cacciato, All That's Left to Tell celebrates not just the power of storytelling but the deeply human need for it in even the most dire situations. Alternately gripping and dreamy, Daniel Lowe's debut imagines what the stories we tell reveal about ourselves, and how they may save us."
—Stewart O'Nan, author of West of Sunset

"Through carefully crafted story telling and an expert's ear for dialogue, Daniel Lowe delivers an outstanding debut. The plot of All That's Left to Tell is satisfyingly ripped from recent headlines and takes the reader on a dizzying, dream-state of a ride as Lowe unspools the storyline to stunning effect."
—Christopher Scotton, author of The Secret Wisdom of the Earth

"An utterly engrossing novel about the universal need to tell stories in order to survive, to remember, and to be remembered."
—Laila Lalami, author of Pulitzer Prize finalist The Moor's Account