Lockdown on Rikers: Shocking Stories of Abuse and Injustice at New York's Notorious Jail (Hardcover)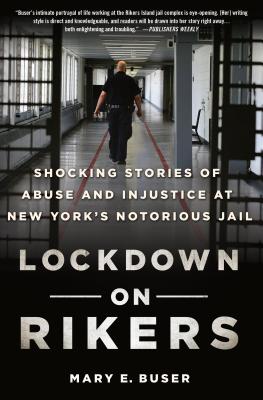 $29.69
Temporarily Unavailable
Description
---
Winner of the 2016 Brooklyn Eagles Literary Prize for Non-Fiction

Mary Buser began her career at Rikers Island as a social work intern, brimming with ideas and eager to help incarcerated women find a better path. Her reassignment to a men's jail coincided with the dawn of the city's "stop-and-frisk" policy, a flood of unprecedented arrests, and the biggest jailhouse build-up in New York City history.

Committed to the possibility of growth for the scarred and tattooed masses who filed into her session booth, Buser was suddenly faced with black eyes, punched-out teeth, and frantic whispers from these inmates that they'd been beaten by officers. Recognizing the greater danger of pointing a finger at one's captors, Buser attempted to help them, while also keeping them as well as herself, safe. Following her promotion to assistant chief, she was transferred to different jails, working in the Mental Health Center, and finally, at Rikers's notorious "jail within jail," the dreaded solitary confinement unit, where she saw horrors she'd never imagined. Finally, it became too much to bear, forcing Buser to flee Rikers and never look back - until now.

Lockdown on Rikers shines a light into the deepest and most horrific recesses of the criminal justice system, and shows how far it has really drifted from the ideals we espouse.
About the Author
---
MARY E. BUSER worked in the Mental Health Department on Rikers Island from 1995 to 2000. She co-founded the Samaritans of New York suicide prevention hotline, and served as its first executive director. She is an outspoken advocate against the inhumane treatment of the incarcerated, especially the mentally ill, and those in solitary confinement. She has been published in The Washington Post and featured in The New York Times and the NY Daily News. She lives in Brooklyn, NY.
Praise For…
---
"By taking readers inside America's best-known prison during an era when its most shocking abuses were largely unknown to the public, Mary E. Buser's Lockdown on Rikers is both a work of literature and an appeal to the nation's conscience in the tradition of Silent Spring and The Jungle..," --Charles Duhigg, winner of the Pulitzer Prize

"Buser not only examines a particularly trying time at the jail--or, more accurately, the huge complex of 10 facilities that covers the island--but connects appalling conditions on the island to failed policies that have stayed in place through the present day...Lockdown on Rikers is a valuable piece of evidence in the case against the current system of incarceration." —Shelf Awareness

"With conditions at New York's Rikers Island making headlines again, Buser's memoir couldn't be more timely...A full-bore view of prison life, the appalling conditions in solitary confinement, and the need for reform." -- Booklist

"Buser has made a real contribution to the literature, particularly at a time when our jails and courts are coming under greater scrutiny. Lockdown on Rikers is not a policy manual, but we can glean some relevant insights?—?especially from Buser's reflections on the deterioration of living conditions in the mid-1990s, when rates of incarceration started to spike." --The Weekly Standard

"Mary will be a strong voice in the current call to put an end to solitary confinement and bail reform in New York City." —Vice

"Buser's intimate portrayal of life working at the Rikers Island jail complex is eye-opening. [Her] writing style is direct and knowledgeable, and readers will be drawn into her story right away...both enlightening and troubling." —Publisher's Weekly

"Mary Buser's Lockdown on Rikers has brought the subject of solitary confinement into the light through a riveting and moving account of her compassionate interaction with inmates suffering in the throes of extreme isolation. This shocking expose should challenge us to learn more about our criminal justice system and to demand humane treatment for the incarcerated." —Sister Marion Defeis, 23-year Riker's Island chaplain

"In this enthralling memoir, Mary Buser takes us inside the walls to meet the men and women who are the casualties of mass incarceration. Their individual struggles illustrate the injustices of our current criminal court system. Buser reveals the perils of attempting to provide support and healing in an environment dominated by force, brutality, and indifference to human suffering." —Jennifer J. Parish, Director of Criminal Justice Advocacy, Urban Justice Center Mental Health Project

"We live in a society that tries its best not to face the ugly truth about life in prison. Television shows and movies romanticize it, and dry statistics camouflage it. That's why Mary Buser's beautifully written memoir of her five-year stint as a young, idealistic social worker at Rikers is so important. She neither sugarcoats the frustrations she experienced along the way nor downplays the occasional triumphs. Throughout, her book has the solid ring of honesty. That's why it's disturbing, but also why it's inspiring, too." —Kerry Walters, Wm. Bittinger Professor of Philosophy, Gettysburg College

"Lockdown on Rikers exposes the hidden world behind bars in America and tells us why we cannot turn away by revealing the terrible consequences of the current system -- from the torture of solitary confinement to the use of jails and prisons as mental health asylums to the unchecked brutality of corrections officers who are never held accountable. This book is a wake-up call for all Americans; it not only tells the horrific story of a bloated and callous jail system, it demonstrates the rare humanity necessary to start fixing the problem." —Amy Fettig, Senior Staff Counsel, ACLU National Prison Project & Director of the Stop Solitary Campaign

"Mary Buser's journey from idealistic student to burned-out assistant chief in the Rikers Island Mental Health Department reads like a suspenseful novel, yet the horrific suffering she witnesses behind bars is all too real. Lockdown on Rikers will open the eyes of the public, sparking a demand for reform of our criminal justice system, humane treatment of the incarcerated, and the abolition of prolonged solitary confinement." —Sister Helen Prejean, author of DEAD MAN WALKING

"Based on my 30 years in the Department of Correction on Rikers Island, I can state unequivocally that Lockdown on Rikers hits the nail on the head. Ms. Buser's journey from student intern in the Mental Health Department, to chief of the solitary unit paints a painful, but accurate picture of life on Rikers Island. Ms. Buser's expose will hopefully lead to significant improvements for the incarcerated, and also for those responsible for their care...an exceptional book." —David A. Fullard, Ph.D., former Rikers Island Captain, Visiting Assistant Professor, Empire State College

"America's jails are holding pens for the mentally ill, and this unsparing account of treatment behind bars reveals just how rotten our punitive system of care has become. A memoir of compassion, outrage, and frustration, Mary Buser's book takes us deep inside the country's most infamous jail and relates stories of despair, neglect, and sometimes hope that you will never forget." —Robert Perkinson, author of TEXAS TOUGH: The Rise of America's Prison Empire

"Lockdown on Rikers is one woman's harrowing tale of working with violent criminals caged in [Riker's Island's] notorious dark tower called the "Bing."" —New York Daily News