The New York Times Crosswords to Supercharge Your Brainpower: 75 Easy to Hard Puzzles (Paperback)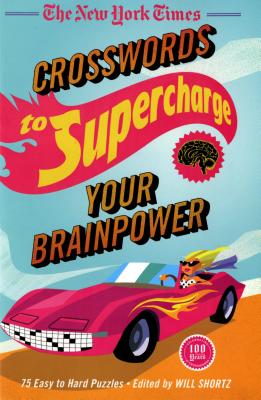 Not available to order
Backordered--delivery time uncertain
Description
---
C___SW__DS
Clue: Medically proven brain-building technique that's lots of fun, too!
There's no better way to relax, recharge, and re-energize your brain than by solving a crossword puzzle, as recent studies, including one in the Journal of the American Medical Association, have shown. So what are you waiting for? Pick up a pencil and get ready to give your cerebral muscles the most enjoyable workout they've ever had.
* 75 great New York Times crosswords from legendary puzzle editor Will Shortz
* Arranged in increasing order of difficulty, so your brain can get the workout you desire
* Also available in large-print format
About the Author
---
The New York Times is a daily newspaper published in New York City and distributed internationally. Founded in 1851, the newspaper has won 112 Pulitzer Prizes, more than any other news organization. Its website receives 30 million unique visitors per month.

Will Shortz has been the crossword puzzle editor of The New York Times since 1993. He is also the puzzlemaster on NPR's Weekend Edition Sunday and is founder and director of the annual American Crossword Puzzle Tournament. He has edited countless books of crossword puzzles, Sudoku, KenKen, and all manner of brain-busters.
Praise For…
---
"[Will Shortz] is the crossword king." —Steve Kroft, 60 Minutes
"The prince of crossword puzzlers." —Greenwich Magazine
"The Riddler's got nothing on Will Shortz." —Time Out New York
"Will Shortz is [the crossword book world's] John Grisham." —Martin Arnold