Wild Life (Paperback)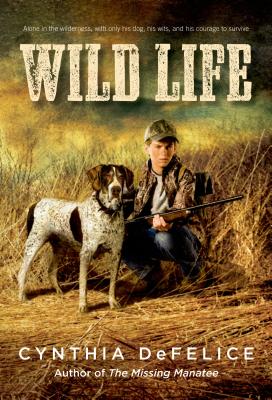 $8.79
Temporarily Unavailable
Description
---
Erik is preparing for his first-ever hunting trip when he learns that his parents are being deployed to Iraq. A few days later, Erik is shipped off to North Dakota to live with Big Darrell and Oma, grandparents he barely knows. When Erik rescues a dog that's been stuck by a porcupine, Big Darrell says Erik can't keep him. But Erik has already named her Quill and can't bear to give her up. He decides to run away, taking the dog and a shotgun, certain that they can make it on their own out on the prairie.

Wild Life by Cynthia DeFelice is a story of adventure and survival, in which Erik learns about the challenges and satisfactions of living off the land, the power of family secrets, and the pain of losing what you love.
About the Author
---
Cynthia DeFelice is the author of many bestselling titles for young readers, including the novels Wild Life, The Ghost of Cutler Creek, Signal, and The Missing Manatee, as well as the picture books, One Potato, Two Potato, and Casey in the Bath. Her books have been nominated for an Edgar Allan Poe Award and listed as American Library Association Notable Children's Books and Bank Street Best Children's Book of the Year, among numerous other honors. Cynthia was born in Philadelphia in 1951. As a child, she was always reading. Summer vacations began with a trip to the bookstore, where she and her sister and brothers were allowed to pick out books for their summer reading. "To me," she says, "those trips to the bookstore were even better than the rare occasions when we were given a quarter and turned loose at the penny-candy store on the boardwalk." Cynthia has worked as a bookseller, a barn painter, a storyteller, and a school librarian. When asked what she loves best about being an author, she can't pick just one answer: "I love the feeling of being caught up in the lives of the characters I am writing about. I enjoy the challenge of trying to write as honestly as I can, and I find enormous satisfaction in hearing from readers that something I wrote touched them, delighted them, made them shiver with fear or shake with laughter, or think about something new." Cynthia and her husband live in Geneva, New York.
Praise For…
---
"Themes of accepting change and learning to let go are woven into this winning tale of boy and dog." —School Library Journal

"Sturdily conveyed, the lessons are telegraphed on each page. . . . What really makes it stand out are the deftly folded-in gun lessons and easy acceptance of the way of life they accompany." —Kirkus Reviews