Paris, I Love You but You're Bringing Me Down (Paperback)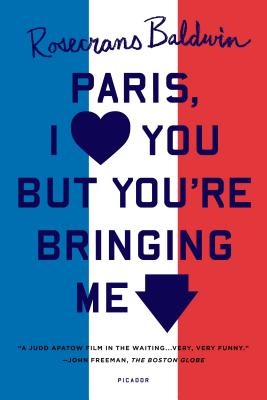 $19.00

ON HAND in at least ONE of our stores. Click through or call for up-to-the-minute availability.
(This book cannot be returned nor exchanged.)
Description
---
A fresh, exhilarating take on one of the world's most popular topics—Paris, the City of Light!—by an acclaimed novelist Rosecrans Baldwin

A self-described Francophile since the age of nine, Rosecrans Baldwin had always dreamed of living in France. So when an offer presented itself to work at a Parisian ad agency, he couldn't turn it down—even though he had no experience in advertising, and even though he hardly spoke French.

But the Paris that Rosecrans and his wife, Rachel, arrived in wasn't the romantic city he remembered, and over the next eighteen months, his dogged American optimism was put to the test: at work (where he wrote booklets on breastfeeding), at home (in the hub of a massive construction project), and at every confusing dinner party in between. A hilarious and refreshingly honest look at one of our most beloved cities, Paris, I Love You but You're Bringing Me Down is the story of a young man whose preconceptions are usurped by the oddities of a vigorous, nervy metropolis—which is just what he needs to fall in love with Paris a second time.
About the Author
---
Rosecrans Baldwin is the author of The Last Kid Left, You Lost Me There, and Paris, I Love You but You're Bringing Me Down. He is a frequent contributor to GQ, and co-founded the online zine The Morning News. He lives in Los Angeles.
Praise For…
---
"A Judd Apatow film in the waiting...Very, very funny." —John Freeman, The Boston Globe

"Deftly written, with a wry style and liberally deployed irony...Very funny." —Dominic Tierney, The Atlantic

"A picture of what it's like to live and work--like, work work--in a city understood by most Americans only through tourist goggles…So necessary and welcome." —Daniel Riley, GQ

"Baldwin and his wife, Rachel--as well as the Parisians he came to know--are funny and idiosyncratic, and it's a pleasure to spend time with them....A love story about the city and its people." —Eloisa James, NPR

"A hilarious, keenly observed, and surprisingly poignant journey into the Parisian state of mind." —Anthony Doerr, author of Four Seasons in Rome

"Americans in Paris are a common literary trope, but Rosecrans Baldwin has rejuvenated it....A wryly astute fish-out-of-water memoir." —Teddy Wayne, The Huffington Post

"A charming entry into the expat canon, this book is Baldwin's true story of moving to his favorite city in the world--favorite to the tune of obsession, mind you--and realizing it's not quite as he had imagined." —Emily Temple, Flavorwire

"Baldwin proves that with the right attitude, everything in this perhaps most magically remembered of all cities is either beautiful, hilarious, or both, and his friendly voice and approachable style will grab those who want to be there and those who have never been." —Annie Bostrom, Booklist

"A charming, hilarious account of la vie Parisienne as experienced by an observant young American...his vivid impressions of Paris and its people (expats included) are most engaging. Great fun and surprisingly touching. Great fun and surprisingly touching." —Kirkus (starred review)