Will Shortz Presents Dangerous Sudoku: 200 Hard Puzzles (Paperback)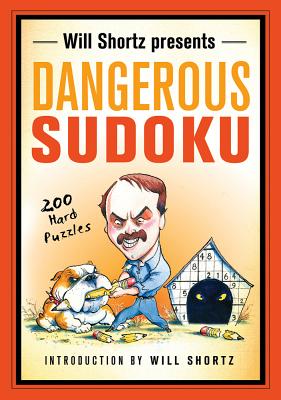 Not available to order
Backordered--delivery time uncertain
Description
---
Only the bravest sudoku solvers should take on this collection of all-new deviously difficult puzzles. This is the perfect collection to put your solving skills to the test!
Features: 200 hard puzzles
Big grids for easy solving
Introduction by New York Times crossword editor Will Shortz
About the Author
---
Will Shortz has been the crossword puzzle editor of The New York Times since 1993. He is also the puzzlemaster on NPR's Weekend Edition Sunday and is founder and director of the annual American Crossword Puzzle Tournament. He has edited countless books of crossword puzzles, Sudoku, KenKen, and all manner of brain-busters.
Praise For…
---
"A puzzling global phenomenon" —The Economist
"The biggest craze to hit The Times since the first crossword puzzle was published in 1935." —The Times of London
"England's most addictive newspaper puzzle." —New York magazine
"The latest craze in games" —BBC News
"Sudoku is dangerous stuff. Forget work and family—think papers hurled across the room and industrial-sized blobs of correction fluid. I love it!" —The Times of London
"Sudokus are to the first decade of the 21st century what Rubik's Cube was to the 1970s." —The Daily Telegraph
"Britain has a new addiction. Hunched over newspapers on crowded subway trains, sneaking secret peeks in the office, a puzzle-crazy nation is trying to slot numbers into small checkerboard grids." —Associated Press
"Forget crosswords." —The Christian Science Monitor