Emotionally Naked: A Teacher's Guide to Preventing Suicide and Recognizing Students at Risk (Paperback)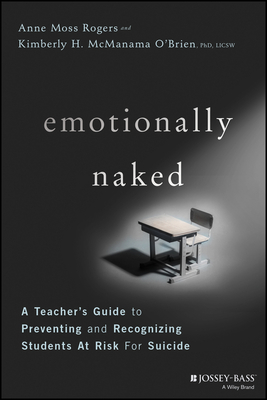 $29.95
Coming Soon. Pre-Order Now!
Description
---
Discover effective strategies to help prevent youth suicide
In Emotionally Naked: A Teacher's Guide to Preventing Suicide and Recognizing Students at Risk, trainer, speaker, and suicide loss survivor Anne Moss Rogers, and clinical social worker and researcher, Kimberly O'Brien, PhD, LICSW, empower middle and high school educators with the knowledge and skills to leverage their relationships with students to reduce this threat to life.
The purpose of this book is not to turn teachers into therapists but given the pervasive public health problem of suicide in our youth, it's a critical conversation that all educators need to feel comfortable having. Educators will learn evidence-based concepts of suicide prevention, plus lesser known innovative strategies and small culture shifts for the classroom to facilitate connection and healthy coping strategies, the foundation of suicide prevention. Included is commentary from teachers, school psychologists, experts in youth suicidology, leaders from mental health nonprofits, program directors, and students. In addition, readers will find practical tips, and sample scripts, with innovative activities that can be incorporated into teaching curricula.
You'll learn about:
The teacher's role in suicide prevention, intervention, postvention, collaboration
The different and often cryptic ways students indicate suicidality
What to do/say when a student tells you they are thinking of suicide
Small shifts that can create a suicide-prevention classroom/school environment
How to address a class of grieving students and the empty desk syndrome
Link to a download of resources, worksheets, activities, scripts, quizzes, and more
Who is it for:
Middle/high school teachers and educators, school counselors, nurses, psychologists, coaches, and administrators, as well as parents who wish to better understand the complex subject of youth suicide.
About the Author
---
Anne Moss Rogers is a TEDx storyteller, the 2019 YWCA Pat Asch Fellow for social justice, NAMI Virginia board member, author of the book, Diary of a Broken Mind, and an Emotionally Naked(R) speaker who helps people foster a culture of connection to prevent suicide, reduce substance misuse, and find life after loss. She has been featured in the New York Times, was the first suicide loss survivor ever invited to speak at the National Institute of Mental Health (NIMH) and is a trainer for the 4-hour evidence-based suicide prevention training called safeTALK. Despite her family's best efforts, Anne Moss's 20-year-old son Charles died by suicide and she started a blog, EmotionallyNaked.com, and chronicled her family's tragedy in a newspaper article that went viral. After receiving a message from a young lady who wrote that one of her blog posts saved her life, Anne Moss sold her digital marketing business and followed her purpose of preventing suicide and reducing the stigma of addiction and mental illness. Kimberly O'Brien, PhD, LICSW is a Clinical Social Worker in the Sports Medicine Division and Female Athlete Program at Boston Children's Hospital, as well as a Research Scientist and Assistant Professor of Psychiatry at Harvard Medical School. She received her BA from Harvard University, MSW and PhD from Boston College, and completed her postdoctoral fellowship at Brown University. Her research focuses on the development and testing of brief interventions for suicidal adolescents with and without substance use and their families, with an additional specialization on interventions which utilize technology. She has co-authored over 50 articles and book chapters related to adolescent suicide, substance use, and mental health, and was awarded the Young Investigator Research Award from the American Foundation for Suicide Prevention in 2019. She is also the founder and director of Unlimited Resilience, LLC, a private mental health practice for athletes by athletes.