Gluten-Free Girl Every Day (Hardcover)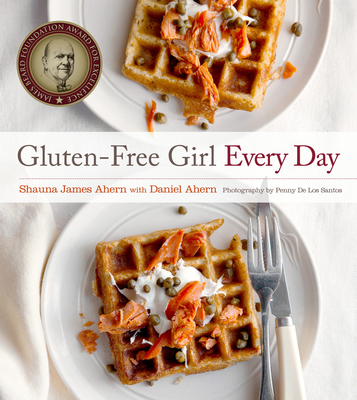 $29.99
Temporarily Unavailable
Description
---
An award-winning, approachable cookbook intended for home cooks making dinner for their families, gluten-free
Shauna Ahern, the author of Gluten-Free Girl and the Chef—named by the New York Times as one of the best cookbooks of 2010—returns with a new cookbook for busy people who still love to cook. Gluten-Free Girl Every Day, winner of a James Beard Foundation cookbook award, features food you want to cook every day: fresh, satisfying, and filled with great flavors. The inspired ingredient pairings of these recipes come from the collaboration of Ahern and her husband Danny, a professional chef.
Vegetables in season are the key to these healthy, relatively simple recipes, along with whole grains, beans, and a few key spices and homemade sauces. Gluten-Free Girl Every Day also includes practical tips on how to stock a gluten-free pantry, as well as helpful insights into how to bake gluten-free.
Features 120 gluten-free recipes for weeknight dinners and desserts
Includes suggestions for foods that can be made ahead or frozen to make dinnertime easier
Organized around different types of dinners: Breakfast for Dinner, One-Pot Wonders, Stir Fries, and Breaking Down a Chicken, for example
All the recipes in Gluten-Free Girl Every Day are gluten-free, and many are dairy-free or vegetarian as well. However, the only thing that truly matters is that these dishes are delicious.
About the Author
---
SHAUNA JAMES AHERN is the author and photographer behind the award-winning blog GlutenFreeGirl.com and the food memoir Gluten-Free Girl. Diagnosed with celiac disease in 2005, she is considered one of the most authoritative gluten-free voices on the Internet.