Queens of the Crusades: England's Medieval Queens Book Two (Hardcover)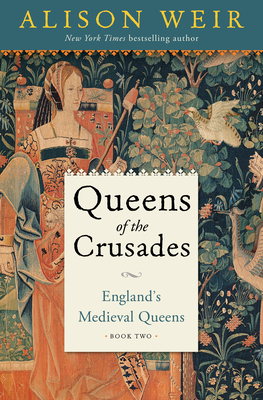 $30.00
Temporarily Unavailable
Description
---
Packed with incredible true stories and legendary medieval intrigue, this epic narrative history chronicles the first five queens from the powerful royal family that ruled England and France for over three hundred years.

The Plantagenet queens of England played a role in some of the most dramatic events in our history. Crusading queens, queens in rebellion against their king, seductive queens, learned queens, queens in battle, queens who enlivened England with the romantic culture of southern Europe—these determined women often broke through medieval constraints to exercise power and influence, for good and sometimes for ill.

This second volume of Alison Weir's critically acclaimed history of the queens of medieval England now moves into a period of even higher drama, from 1154 to 1291: years of chivalry and courtly love, dynastic ambition, conflict between church and throne, baronial wars, and the ruthless interplay between the rival monarchs of Britain and France. We see events such as the murder of Becket, the Magna Carta, and the birth of parliaments from a new perspective.

Weir's narrative begins with the formidable Eleanor of Aquitaine, whose marriage to Henry II established a dynasty that ruled for over three hundred years and created the most powerful empire in western Christendom—but also sowed the seeds for some of the most destructive family conflicts in history and for the collapse, under her son King John, of England's power in Europe. The lives of Eleanor's four successors were just as remarkable: Berengaria of Navarre, queen of Richard the Lionheart; Isabella of Angoulême, queen of John; Alienor of Provence, queen of Henry III; and finally Eleanor of Castile, the grasping but beloved wife of Edward I.

Through the story of these first five Plantagenet queens, Alison Weir provides a fresh, enthralling narrative focusing on these fascinating female monarchs during this dramatic period of high romance and sometimes low politics, with determined women at its heart.
About the Author
---
Alison Weir is the New York Times bestselling author of a series of biographies on England's medieval queens, beginning with Queens of the Conquest, as well numerous historical biographies, including The Lost Tudor Princess, Elizabeth of York, Mary Boleyn, The Lady in the Tower, Mistress of the Monarchy, Henry VIII, Eleanor of Aquitaine, The Life of Elizabeth I, and The Six Wives of Henry VIII. She is also the author of historical novels including most recently the Six Tudor Queens series about the wives of Henry VIII, which includes Katharine Parr: The Sixth Wife; Katheryn Howard, The Scandalous Queen; Anna of Kleve, The Princess in the Portrait; Jane Seymour, The Haunted Queen; Anne Boleyn, A King's Obsession; and Katherine of Aragon, The True Queen. She lives in Surrey, England, with her husband.
Praise For…
---
"Aimed at the general reader, this rich and robust account will appeal to readers interested in medieval England and some of its most fascinating royal women, whose stories are often left out of the history books."—Booklist

"In its abundant detail about real lives lived amid the broad political strokes of medieval kings, Queens of the Crusades captures a rich sensory impression of how five brilliant yet fallible women managed their subject societies in a precarious and dangerously changeable world."—Bookreporter

"[Weir] writes clearly and entertainingly of the rich history of the Plantagenet queens of England."—New York Journal of Books

"Weir skillfully documents the political, religious, and cultural issues of medieval England and France."—Publishers Weekly

"As in previous books, the exceedingly knowledgeable author's prodigious research is impressive . . . Another treat for Weir fans."—Kirkus Reviews

"Fans of Weir's histories will enjoy this newest installment."—Library Journal