Design of Electrical Transmission Lines: Structures and Foundations (Paperback)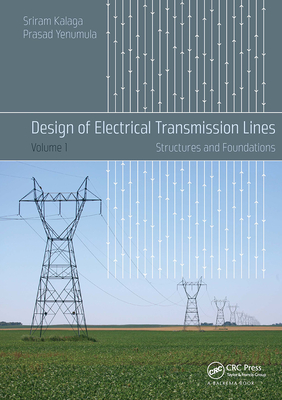 $94.43
Temporarily Unavailable
Description
---
This book covers structural and foundation systems used in high-voltage transmission lines, conductors, insulators, hardware and component assembly. In most developing countries, the term "transmission structures" usually means lattice steel towers. The term actually includes a vast range of structural systems and configurations of various materials such as wood, steel, concrete and composites. This book discusses those systems along with associated topics such as structure functions and configurations, load cases for design, analysis techniques, structure and foundation modeling, design deliverables and latest advances in the field. In the foundations section, theories related to direct embedment, drilled shaf ts, spread foundations and anchors are discussed in detail.
Featuring worked out design problems for students, the book is aimed at students, practicing engineers, researchers and academics. It contains beneficial information for those involved in the design and maintenance of transmission line structures and foundations. For those in academia, it will be an adequate text-book / design guide for graduate-level courses on the topic. Engineers and managers at utilities and electrical corporations will find the book a useful reference at work.
About the Author
---
Dr. Sriram Kalaga is currently a Senior Engineer in the Transmission Line Division of Ulteig Engineers. He holds bachelors, masters and doctoral degrees in Civil engineering with a specialization in Structural Engineering and Mechanics. He has published more than 35 research papers in various journals and conferences. His research background included finite element methods, buckling of beam-columns, nonlinearities, low-cost composites and reliability-based approaches. He has been involved in transmission line design in the USA for 16 years while his overall experience as a Civil Engineer spans over 36 years. As a consulting engineer, he developed various in-house design manuals and technical specifications related to transmission structures.Siriam conducts regular seminars on transmission line design and also participates in teaching workshops on transmission structural design. He is currently a guest editor for an International Civil Engineering Journal and has advised graduate students on their theses. In addition to being a member of ASCE, AISC and ACI, he is currently serving on the ASCE-FRP Blue Ribbon Committee on composite transmission structures. He is a licensed professional engineer in several states in the USA. Dr. Prasad Yenumula is currently a Principal Engineer from the Transmission Line Engineering System Standards of Duke Energy. He earned his bachelor's, master's and doctoral degrees in Civil engineering along with an MBA degree with a specialization in Global Management. With a post-doctoral fellowship in engineering, he published more than 50 research papers in various journals and conferences. He worked as a line design engineer, line standards engineer and lines asset manager in the US & Canada for over 20 years. Prasad was responsible for managing and leading a number of line projects and special assignments, along with developing various technical standards & specifications. He is a professor (adjunct) with Gonzaga University, Washington and contributes to the development and teaching of the on-line transmission & distribution engineering Master's program, and teaches business students at the University of Phoenix. His training classes are in the areas of line design, standards and line design software. Prasad is currently the Chair of line design task force of the Electric Power Research Institute (EPRI) and Vice-Chair of CEATI (Center for Energy Advancement through Technological Innovation) International's TODEM interest group.