Bedtime Stories for Adults: Guided Relaxing Meditation Stories to Promote Self-Healing Through the Deep Sleep Hypnosis to Fall Asleep Fast. (Paperback)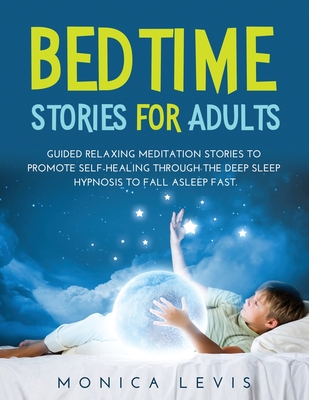 $26.99
Temporarily Unavailable
Description
---
**55% OFF for Bookstores LAST DAYS***
BEDTIME STORIES FOR ADULTS
Your Customers Never Stop to Use this Awesome Book
Do you have trouble relaxing?
Do you have trouble getting yourself to sleep once you lay down for bed?
Are there things that plague and attack your mind as you are telling yourself it is time for rest, unable to stop your racing thoughts and end the vicious cycle of stressors carried over from the day?
Do you suffer from racing thoughts, taking over your mind beyond your ability to control?
Here is a book that might help you a great deal, by providing fifteen short and hypnotizing bedtime stories for adults, stories that will make even the most stressed out individual relax and journey into a realm of pleasant dreams
In this book you will find:
15 short stories designed to lull the reader or listener into a deeper state of conscious, so as to prepare for a more relaxed and easily enterable sleep state that will more positively rejuvenate the sleeping mind and body
Ethereal landscapes that awaken the imagination and spark the flame of grand and glorious dreams, that will provide the reader or listener with a deeper and more focused form of rest, entering deeper states of the mind, soul, and body and rejuvenating them in a more profound way
A simple exercise pattern to partake in each night before reading and listening to any of the stories, so as to better prepare the mind, body, and spirit for a more enhanced mode of sleep and rest and rejuvenation
Interesting illustrations that will spark the imagination of the reader and provide branching off points for the readers own mindscape
Incredibly relaxing scenes of breathtaking natural and supernatural beauty, from the core of the earth to the farthest reaches of space, and everywhere in between, from the mothers womb back to the soils of the earth, all walks of life are embraced and a huge spectrum of experience is exemplified and provided for any reader or listener, fast and simple
A brief introduction explaining the power of story and narrative to drive the sub-conscious mind into a more profound and enlightened state of being, and the power this can have on the conscious mind and body
The keys to better rest and a more healthful mind, body, and spirit
Buy it Now and let your customers get addicted to this amazing book