Read, Write, Recite Hebrew: A Beginner's Guide to the Hebrew Alphabet (Paperback)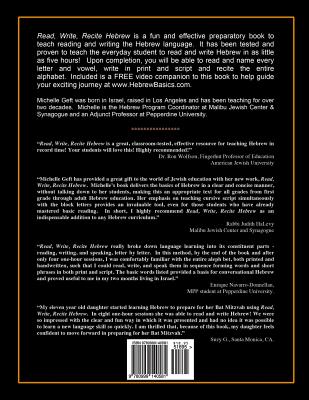 $21.79
Email or call for price.
Description
---
Read, Write, Recite Hebrew is designed to teach you how to read Hebrew, write in Hebrew script, and recite the Hebrew alphabet. The Hebrew alphabet is called the Aleph Bet. This book will not teach you conversation or grammar but will prepare you to continue your studies for Hebrew with a strong foundation of reading and writing. Read, Write, Recite Hebrew is written for the self-guided learner, supplementary schools, adult education and anyone who wants to learn to read and write Hebrew. There is free online access to short video companions to this book at www.HebrewBasics.com.