Deceit and Other Possibilities (Paperback)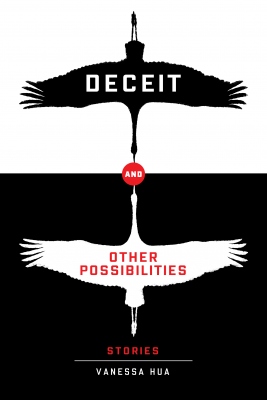 $18.95
Temporarily Unavailable
Description
---
In this powerful debut collection, Vanessa Hua gives voice to immigrant families navigating a new America. Tied to their ancestral and adopted homelands in ways unimaginable in generations past, these memorable characters straddle both worlds but belong to none.
These stories shine a light on immigrant families navigating a new America, straddling cultures and continents, veering between dream and disappointment. From a Hong Kong movie idol fleeing a sex scandal, to an obedient daughter turned Stanford pretender, from a Chinatown elder summoned to his village, to a Korean-American pastor with a secret agenda, the characters in the collection illustrate the conflict between self and society, tradition and change. In "What We Have is What We Need," winner of The Atlantic student fiction prize, a boy from Mexico reunites with his parents in San Francisco. When he suspects his mother has found love elsewhere, he fights to keep his family together.
With insight and wit, she writes about what wounds us and what we must survive. Deceit and Other Possibilities marks the emergence of a remarkable new writer.
Vanessa Hua is an award-winning journalist and writer, and a columnist for the San Francisco Chronicle. For nearly two decades, she has been writing about Asia and the diaspora, filing stories from China, Burma, Panama, South Korea, Abu Dhabi, and Ecuador. Her fiction has appeared in The Atlantic, ZYZZYVA, Guernica, and elsewhere.
About the Author
---
Vanessa Hua, a columnist at the San Francisco Chronicle, is author of DECEIT AND OTHER POSSIBILITIES and novels forthcoming from Ballantine. She received a Rona Jaffe Foundation Writers' Award, the San Francisco Foundation's James D. Phelan Award for Fiction, and a Steinbeck Fellowship in Creative Writing. Her work has appeared in The Atlantic, The New York Times, PRI's The World, ZYZZYVA, Guernica, and elsewhere. She lives in the San Francisco Bay Area with her husband and twin boys.
Praise For…
---
"Vanessa Hua inhabits in graceful and heartbreaking detail the people of her stories: strivers and betrayers, lovers and the landless, all of them on their way to transcendence in her hands."
– SUSAN STRAIGHT, author of Between Heaven and Here and Highwire Moon

"Fast-paced, dazzling, smart, and fun, Vanessa Hua's debut collection illustrates the insanities and heartbreaks on both sides of the Pacific."
– GARY SHTEYNGART, author of Little Failure and Super Sad True Love Story

"Deceit...gives us characters whose lives are constrained and yet also enriched by different borders, cultures, and traditions. A bracing and beautiful debut, full of fire and light."
–LAILA LALAMI, author of The Moor's Account

"Complicated, cosmopolitan and utterly contemporary, Deceit and Other Possibilities is a richly enjoyable collection. Hua is expert at creating both empathy and suspense whether it's in the emptiness of a national park or the crowded space of an international flight. These stories will jump right off the page into the reader's imagination."
–MARGOT LIVESEY, author of Mercury and The Flight of Gemma Hardy

"These 10 stories follow immigrants to a new America who straddle the uncomfortable line between past and present, allegiances old and new."
--The Millions "most anticipated list" for the second half of 2016

"An intriguing collection...each of her protagonists is never quite grounded, caught between multiple cultures and countries. Each hides beneath layers of deceit, clinging to lies that enable survival....Hua is a writer to watch."
--Booklist

"Exactly what we need to be reading in this country right now; and probably always. Zeroing in on a myriad of different immigration stories…this collection is funny and sad, quick-witted and thought provoking."
--Bustle, 26 Best Literary Debuts By Women in the Last 5 years