Girl, World (Paperback)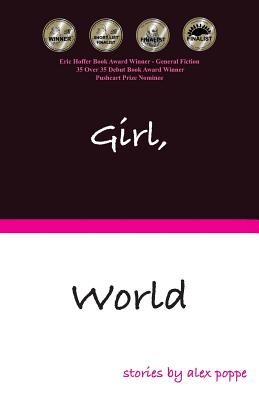 $19.14
Temporarily Unavailable
Description
---
Girl, World is a collection of stories of female survival: the discovery of untapped strength and the metamorphosis into becoming whole. Mixing lyricism, stark realism, emotional depth and vivacious language, Alex Poppe has crafted unforgettable characters navigating through places where the big political story is beautifully captured in the small personal story. In this poignant, topical debut collection, readers travel from the confinement of the Occupied Territories to the wilds of Northern Iraq, from hipster Brooklyn to Bosnian brothels, charting a heart-pounding emotional landscape. Characters bend the concept of family as they struggle with the grief, betrayal, violence, and alienation that redefine who they are. Weaving magical realism with local topography, the imagery, empathy, and testimony of these stories celebrate the fragile grandeur of everyday life.
Be they women who can fly or women on the run, Poppe's heroines navigate heartbreak with grace. "The Crystal Fairies" introduces Seraphina, born with the traces of a doily spread across her back. When she feels scared, iridescent, granite-colored wings emerge from the grooves in her skin, making her a monstrous oddity. In "Kurdistan," newly-orphaned teenager, Shatu, moves from Nashville to Kurdistan to live with Aunt Maya, a wealthy artist. A stranger in a strange land, Shatu unlocks family secrets and witnesses a myth become reality as she takes her first steps into adulthood. Natasia, a precocious teenager in America's heartland, discovers the genetically modified truth about her parentage in "Family Matter." Sabiha, a girl whose world is scored by color and music, is tempted to join jihad in "V." In "Ras Al-Amud," Yasmeen's marriage crumbles when her baby is stillborn on the wrong side of the separation wall. "My Mother's Daughter" follows a generation of stolen Slavic women to their breaking ground, where they are emotionally and physically shattered before they are sold to Bosnian brothels in the aftermath of the Balkan War. War casts its shadow over "Room 308," a sad and funny story about rape in the military. The nameless narrator, a student nursing aide with a Xanax addiction, comes to terms with her attacker at a VA hospital. "Moxie" returns to Poppe's native Brooklyn where Jax, a top model overcome by guilt, must rebuild her life after half her face is destroyed. The young women sparking through these pages are surprising, funny and devastating: the essence of being a woman.
Spanning three continents and employing a variety of writing styles and registers, this collection of stories demonstrates Poppe's versatility as a storyteller. Her ear for dialogue and her journalistic eye result in her creating authentic characters that exist long after the last page is turned. Her greatest strength as a writer is her descriptive prowess: fresh, quirky, physically-grounded imagery expressed in a direct, confiding tone. This collection echoes the writing of Anthony Doerr and Anthony Marra, while establishing a voice that is uniquely hers.