Kodak Mantra Diaries and Other Smoke Signals (Hardcover)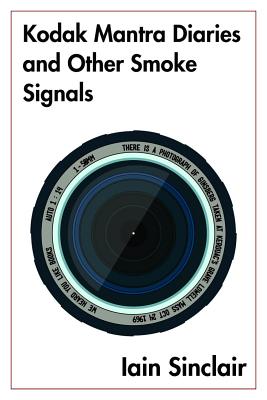 $24.95
Temporarily Unavailable
Description
---
For two weeks in 1967, London's Roundhouse hosted The Congress on the Dialectics for the Demystification of Violence, a counterculture happening showcasing R.D. Laing, Gregory Bateson, Emmett Grogan, Stokely Carmichael and Herbert Marcuse. The event's acknowledged star was Allen Ginsberg.

As he pronounced to radical England, Ginsberg was followed by a young filmmaker with a commission from West German television to produce a documentary on the poet. That filmmaker's name was Iain Sinclair.

Four years later, Sinclair gathered his notes and photographs of the experience and published Kodak Mantra Diaries on his own Albion Village Press. Wrestling with his brush with the poet and 1960s radical politics, Sinclair wrote an astonishing prose debut, setting the template for his later works of non-fiction.

We Heard You Like Books is pleased to present the first hardcover edition of this little seen classic, accompanied by new texts which track Sinclair's continuing fascination with the survivors of the Beat Generation, and record random encounters in the years that followed his initial engagement.