Auguste Rodin (Hardcover)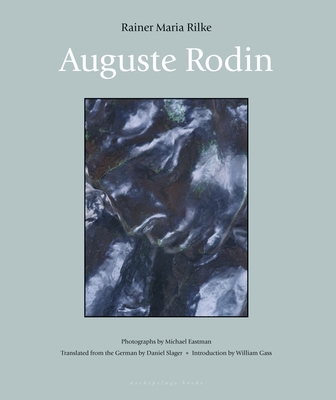 $30.00

Click the TITLE to view store availability
Description
---
Sculptor Auguste Rodin was fortunate to have his secretary Rainer Maria Rilke, one of the most sensitive poets of our time. These two pieces discussing Rodin's work and development as an artist are as revealing of Rilke as they are of his subject. Written in 1902 and 1907, these essays mark the entry of the poet into the world of letters. Rilke's description of Rodin reveals the profound psychic connection between the two great artists, both masters of giving visible life to the invisible. Michael Eastman's evocative photographs of Rodin's sculptures shed light on both Rodin's art and Rilke's thoughts and catapult them into the 21st century.
About the Author
---
Daniel Slager is an editor at Harcourt, a contributing editor to Grand Street, and a widely published translator from German.

William Gass (The Tunnel, Omensetter¢s Luck, and Reading Rilke) received the National Book Critics Circle Award for Criticism, a Lannan Lifetime Achievement award, the Pen-Nabokov Prize, and a gold medal for fiction from the American Academy of Arts and Letters.

Michael Eastman has received a National Endowment for the Arts grant and has been published in The New York Times, Life, American Photographer, and Communication Arts.
Praise For…
---
Combining Daniel Slagers's elegant translation from the German of Rilke's writings on Rodin with Michael Eastman's photographs of Rodin's sculptures, Auguste Rodin offers a fresh look at an unlikely mentorship. —The New York Times Book Review

Brilliant and subtle but richly colored new photographs of Rodin's sculptures by Michael Eastman make this new translation of Rilke's classic meditation on Auguste Rodin a feast for the eye and mind. National Book Critics Circle Award winner Wiliam Gass examines the text and the setting to provide insight and context. Fine writing, beautiful images, and exciting ideas make this edition of Rilke's Auguste Rodin a real treat. —R.K. Dickson

Poets and the visual arts—it is a vast subject; and all through the twentieth century artists and writers collaborated almost constantly, sometimes with such intensity that it seemed as if they were passing back and forth a single flask labeled 'Inspiration.' Few poets have written more eloquently about the visual arts than Rilke, and one of the most beautiful books of the year is his Auguste Rodin (Archipelago Books, $30), translated by Daniel Slager, with photographs by Michael Eastman, which bring us close to the charged surfaces of Rodin's bronzes, and catch their storm-tossed intensity. Rodin was at times a disturbingly bombastic artist—while his Gates of Hell may be the work of a genius, it is also pure kitsch—but in the years just after 1900, when Rilke got to know him, the avant-garde was still inclined to embrace Rodin as a rough-hewn visionary, a man in whose studio, as Rilke wrote, 'everything was becoming, but nothing was in a hurry.' For Rilke, both Rodin and Cézanne suggested, through the very physicality of their labors, a route beyond fin-de-siècle preciosity. Rilke discovered in Rodin a man who was utterly committed to the materiality of the artistic vocation. Rodin taught Rilke to make his feelings concrete. —Ruth Franklin