God Clobbers Us All (Edgar Adventures) (Paperback)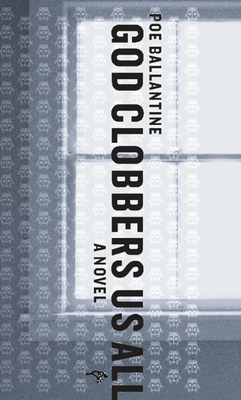 Email or call for price
Not Available to Order. Call or email for used stock availability.
Description
---
Set against the decaying halls of a San Diego rest home in the 1970s, God Clobbers Us All is the shimmering, hysterical, and melancholy account of eighteen-year-old surfer-boy orderly, Edgar Donahoe, and his struggles with romance, death, friendship, and an ill-advised affair with the wife of a maladjusted war veteran. All of Edgar's problems become mundane, however, when he and his lesbian Blackfoot nurse's aide best friend, Pat Fillmore, become responsible for the disappearance of their fellow worker, Beverley Fey, after an LSD party gone awry. Ballantine's own brand of delicious quirkiness and storytelling is smooth and compelling, and God Clobbers Us All is guaranteed to satisfy Ballantine fans as well as convert those lucky enough to be discovering his work for the first time.
About the Author
---
POE BALLANTINE currently lives in Chadron, Nebraska. His work has appeared in The Atlantic Monthly, The Sun, Kenyon Review, and The Coal City Review. In addition to garnering numerous Pushcart and O. Henry nominations, Ballantine's work has been included in the The Best American Short Stories 1998 and The Best American Essay 2006 anthologies.
Praise For…
---
IT'S IMPOSSIBLE NOT TO BE CHARMED by the narrator of Poe Ballantine's comic and sparklingly intelligent God Clobbers Us All. PUBLISHER'S WEEKLY

BALLANTINE'S NOVEL IS an entertaining coming-of-age story." THE SAN FRANCISCO CHRONICLE

A SURFER DUDE TRANSFORMS into someone captivatingly fragile, and Ballantine's novel becomes something tender, vulnerable, even sweet without that ickly, cloying literary aftertaste. This vulnerability separates Ballantine's work from his chosen peers. Calmer than Bukowski, less portentous than Kerouac, more hopeful than West, Poe Ballantine may not be sitting at the table of his mentors, but perhaps he deserves his own after all. THE SAN DIEGO UNION-TRIBUNE

IT'S A COMPELLING, quirky read. THE OREGONIAN

POE BALLANTINE HAS CREATED an extremely fast page-turner. Edgar, in first-person narrative, is instantly likeable, and his constant misadventures flow seamlessly. Partially analyzed daydreams hint at an intriguing adolescent intellect without rambling on into psychological overkill. Ballantine paints southern California with voluptuous detail. Green suns, kaleidoscopic blue eyes, yellow moons and other Lucky Charms marshmallows decorate Edgar's acid-tinged world with an effect more tangible than psychedelic. The blank gloom of the hospital and the florid '70s California coast serve as the arena for this initiation into adulthood. WILLAMETTE WEEK

GOD CLOBBERS US ALL SUCCEED[S] on the strength of its characterization and Ballantine's appreciation for the true-life denizens of the Lemon Acres rest home. The gritty daily details of occupants of a home for the dying have a stark vibrancy that cannot help but grab one's attention, and the off-hours drug, surf, and screw obsessions of its young narrator, Edgar Donahoe, and his coworkers have a genuine sheen that captivates almost as effectively. THE ABSINTHE LITERARY REVIEW

A WRY and ergoty experience. GOBSHITE QUARTERLY

THAT THE RESULTING MELANGE of a plot draws the reader's attention from the first page and leaves one wanting more is a tribute to a storyteller with a keen sense of irony, a precise power of observation, a deep understanding of psychology, and a lyrical command of language... It's not just an eccentric plot that keeps God Clobbers Us All afloat though, Ballantine's prose carries metaphorical powers that make a day of mediocre surfing into a symphony, soften even the harsh indignity of an unintended nursing home death, and illuminate the distorted reality of psychedelic hallucination. THE CHADRON RECORD

BALLANTINE PULLS NO PUNCHES as he writes about Edgar's life in the 1970's. But even though his sexual and drug-related stories are graphic, they are not disturbing. He has a way with words, and this story takes on a life of its own. It's easy to get involved in the story after page three. After page three, you're hooked; it's that simple. BOOK REVIEW CAFE

acclaim from the beyond for poe ballantine's GOD CLOBBE?S US ALL
I despise Poe Ballantine. He's obviously stolen his style from Carson McCullers.
You know, I never forgave her for that nonsense at Yaddo. The I Hate
Truman Club," indeed. This boy who names himself after a cheap Scotch
reminds me of her. And he thinks because he gives me short mention
traipsing onto the set of the Tonight Show that I'm going to be easy on him?
Squirmingly affected? I never squirmed a day in my life. God, he and Carson,
two peas in a pod. truman capote

I doubt if Truman ever read God Clobbers Us All. He was the same at Yaddo.
A whirlwind of egoism and self-promotion. I loved this book. I've handed
it down to Eudora, who will probably rate it a scandal. Truman was the
one who stole from me, by the way. carson mccullers

Now if I could've written a book like this I might still be a famous Cuban
marlin fi sherman. For the record, it was boredom and the fi ction of success
that ended my days. The Life photo and the Nobel Prize were merely
laurels on a dead man's chest. The writing lost its life before the writer ever
did. Don't ever let them buy your soul. ernest hemingway

Surfi ng? lsd? From which European suburb does this man hail?
william shakespeare

Wallace Stegner handed me a copy of God Clobbers Us All the other day, and
for the fi rst time since 1963 I was glad that I was dead. I read this book in
one sitting over at Jeffers's place under a Monterrey pine. I don't feel so
alone anymore. I'm happy to see the tradition of great Western writers
continue. john steinbeck

[sentence unintelligible] william faulkner

The thing this novel is about is always there. It is like a church lit but without
a congregation to distract you, with every light and line focused on the high
altar. And on the altar, very reverently placed, intensely there, is a deaf cat,
a powdered lemon cake, a letter to Deborah Kerr h. g. wells

I must agree with Eudora on this one, though it surpasses most of the
literary" novels I've suffered through during the last thirty years. The
atmosphere, however I must give him credit put me back in the sultry,
summery mind of Andalusia, with the sun setting, the scent of mimosa,
and the peahens dozing in the trees. flannery o'connor

Poe Ballantine, unlike the majority of his contemporaries, can write a
sentence. I'm a little lost on the radio reference, but fl attered nevertheless.
Write from mood," I always said, and Mr. B. apparently agrees. Tell him
to lay off the booze and stay away from that shitpot Hollywood if we are
ever to see him in such fi ne form again. f. scott fitzgerald

The only obligation to which in advance we may hold a novel, without
incurring the accusation of being arbitrary, is that it be interesting. Mr.
Ballantine's Divine Punishment breaches no appointment in this regard.
Print it as it standsbeautifully. henry james

First-rate instincts. Compelling voice. The door-slamming Pat Fillmore
will go down as one of the great characters of the twenty-fi rst century.
aldous huxley

I'd like to give Poe Ballantine some advice. The public is a dumb beast.
Give it a pretty face or a literary movement and it will follow. I don't see
the necessity of any more than one draft. jack kerouac

We'd just love to have Mr. Poe at our table. I promise to keep Bob at bay.
Oh, and tell him to bring some of those round pecan cookies dusted with
confectioner's sugar, do you know the ones I'm talking about?
dorothy parker