Proprietary: Poems (Paperback)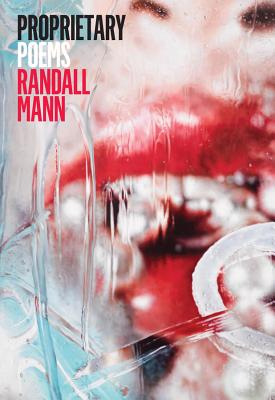 $15.95
ON HAND in at least ONE of our stores. Click through or call for up-to-the-minute availability.
Description
---
In Proprietary, Randall Mann critiques corporate culture, depicting (and slyly rebuking) the American materialism that erupted in the 1980s and has metastasized ever since. "Please consider / Ocean Beach / out of reach," he writes; in these poems, nothing is beyond the reach of his acuity.
For years, Randall Mann has been hailed as one of contemporary American poetry's most daring formalists, expertly using craft as a way of exploring racy subjects with trenchant wit and aplomb. His new collection, Proprietary, depicts with the insights of a longtime insider the culture of corporate America, in which he's worked for years, intertwined with some of his tried-and-true subjects, including gay life in the wildly disparate worlds of San Francisco and northern Florida.
About the Author
---
Randall Mann is the author of Complaint in the Garden (2004), which won the Kenyon Review Prize in Poetry; Breakfast with Thom Gunn (2009), finalist for the Lambda Literary Award for Gay Poetry and the California Book Award; Straight Razor (2013), finalist for the Lambda Literary Award; and Proprietary (2017) a finalist for the Northern California Book Award and Lambda Literary Award. He is also the author of a book of criticism, The Illusion of Intimacy: On Poetry (2019), as well as co-author of the textbook Writing Poems (2007). He lives in San Francisco.

Praise For…
---
The poems in this collection... straddle the distance between a San
Francisco of hedonistic pleasures and a San Francisco of corporate
doublespeak. In echoing that earlier city, Mann evokes Thom Gunn, a
noted San Francisco poet or even Baudelaire, a poet of raw urban desire.
But in threading these poems about lust, longing and alienation through
a brave new world of org charts and web portals, Mann imagines anew
what it means to connect or to feel at a loss in the age of the
Internet.
— Tess Taylor

[I]n these poems, [Mann] is... a reluctant (if unrepentant) bricoleur—pilfering from Slack chats
and Powerpoint slides, from vested options and IPOs, the enervating
rhetoric of start-up culture, and fashioning from it a radical public
art.
— Eric Smith

...Proprietary calls all ownership into question, especially ownership of the self: of one's time, body, and identity. Even proprietorship of the language used to describe (and thus "own") experience is undercut by Mann's trademark, subversive use of poetic meter and form.


From the board room to the back room, Mann dissects how we use language
and negotiate our desire against the backdrop of the United States'
corporate and material culture, while simultaneously reminding us not to
lose sight of how that culture, or subsets of that culture, have shaped
our understanding of ourselves.

Mann's oeuvre has always placed on display a narrow selection of scenes from gay male urban life, at once boisterous and lubed, anxious and ambivalent.... Proprietary shows Mann at his most incisive.


Mann thrives on the demands of constraint, the challenge of needing to go deep into a subject to find the rhyme, to maintain the integrity of the line, to render an experience with clarity, control, and concision. His work demonstrates a formal rigour not often seen in contemporary poetry, even in his free verse which, as Mann reminds us, is a formal choice.

Mann weaves personal lyric with corporate jargon, brand names, and unflinching sexuality in his slippery fourth collection... Late-20th-century nostalgia and office park lingo are sung as nursery rhymes, creating a poetics that modulates between stark and whimsical, syrupy and wry. The dreams of the past and realities of the present define the tension between these registers as a tech-obsessed San Francisco collides with the grotto of what was once a gay promised land.

Mann has
crafted a collection that is brutal and funny, poignant and honest in
equal measure.

Mann is as fearless a poet as I've ever seen.

In Proprietary, Mann offers us an endlessly complex, playful, and careful social commentary, wrought through his always-present-but-here-enhanced attention to line, to break, to grammar, to thought. To the things that make a poem succeed. The best endorsement of this book I suppose I can give is that it makes me thirsty for the next.


Sonically, Mann is a master of formalist design with a witty sense for line-breaks. He is not one for an elliptical poetic. He represents perhaps the best in gay male poetry today, with a message of protest against corporate American life that is as relevant as it is timely. Mann's work should be admired for its ferocity, its craft, and its unabashedly gay point of view.

These are poems of the modern city, everyday poems and products of their environment, and the poet knows it. Anyone who's lived in large cities knows they can be unforgiving places; there's the occasional reprieve but, even (perhaps especially) when it promises a lot, Mann is typically conflicted.