A Child's Christmas in San Francisco (Hardcover)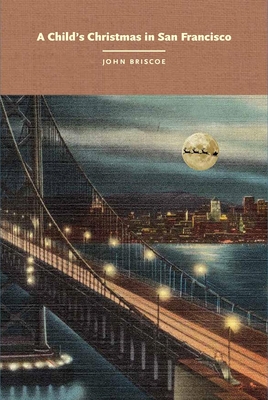 Description
---
At the core of A Child's Christmas in San Francisco are seven poems, composed, author John Briscoe tells us, by generations of San Francisco school children. Over the week before Christmas these children paired iconic San Francisco food and drink with the days of the week. Each day got a poem featuring a particular food or beverage. In this way, Briscoe observes, the young poets showed "a precocious affection for the culinary tradition and abiding spirits of Christmas in their City of St. Francis."

Briscoe was one of those children. "For the occasion of those seven days, we composed ditties of juvenilia, in verse from bad to worse, to celebrate the days of the week and their paired food or beverage soulmates. From Sutro Heights to South Beach, from Bernal Heights to the Bayview, we composed, and competed, and conceded to the best of us."

These then are the best productions of San Francisco's youthful versifiers. They are sly and surprisingly sophisticated comic verses that bring to life a forgotten San Francisco, one spiced with wicked innocence and fueled by the city's unique culinary offerings.

Like the season it recalls, this book is celebration, a feast that is guaranteed to delight.

This book is for people who have affection for San Francisco, particularly its food, drink or history; people who don't know San Francisco but have been enchanted by films, books, or legends of San Francisco; and people who enjoy whimsy for whimsy's sake.

The title of this little book is unabashedly borrowed from Dylan Thomas's delighting story, "A Child's Christmas in Wales," which is best taken in by listening to Thomas himself reading it on the BBC.

This little book is a bit of history of San Francisco, history that is inconsequential in light of the city's role in the California gold rush of 1849, in light of the city's destruction and rebirth in 1906, in light of the city's role in the creation of the United Nations and in the Treaty of Peace with Japan following World War II. But it is a bit, just a bit, of the city's history. It is also a bit of poetry, and this city has produced great poets including poets of that now scorned outlaw genre, light verse.

It is a bit of nostalgia, for first visits to Playland, first trips to Fisherman's Wharf, first dates.

It is a bit of nostalgia for a time that never really was.