Natural Law and the Just Society (Hardcover)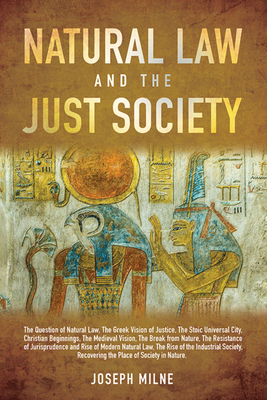 $39.00

Coming Soon. Pre-Order Now!
Description
---
The natural law tradition is rooted in the understanding that society has a place within the universe as a whole. Just as the universe has a natural order that is balanced and just, so does human society. The ancient study of law-making was grounded in this correlation between the universal order and the order of society. When a society conforms to its own real nature, it will flourish and be just and attain its proper end.
This view of a natural social order was central to ancient political and economic theory, ranging from Hesiod, Greek philosophy, Roman jurisprudence and medieval theology. In philosophical reflection on jurisprudence natural law has always held a special place and informed the Western understanding of justice and the good society. Society had been seen analogously to a single body with its different functions which should work harmoniously together. Law-making sought to ground itself in this natural harmony.
The present study seeks to trace the history of natural law within this wider social framework. In particular it seeks to show that insights from the natural law tradition have practical application in our own times, especially in the search for social and economic justice.

About the Author
---
Joseph Milne is an Honorary Lecturer at the University of Kent where he taught on the MA course in Mysticism and Religious Experience until his retirement. He is Editor of Land & Liberty, the journal of the Henry George Foundation, and also a member of the team editing The Complete Works of Henry George. He is the author of the Temenos Academy Papers' The Ground of Being: Foundations of Christian Mysticism (2004), Metaphysics and the Cosmic Order (2008), The Mystical Cosmos (2013), and The Lost Vision of Nature (2018). He is contributor of chapters to Mystical Theology and Continental Philosophy (ed. D. Lewin et al.; Routledge, 2017) and to Peacefulness: Being Peace and Making Peace (ed. D. Cadman and S. Gill; Spirit of Humanity Press, 2017). He is a Trustee of The Eckhart Society and a Fellow of the Temenos Academy.