Troubleshooting and Root Cause Failure Analysis: Equipment Problem Solving (Paperback)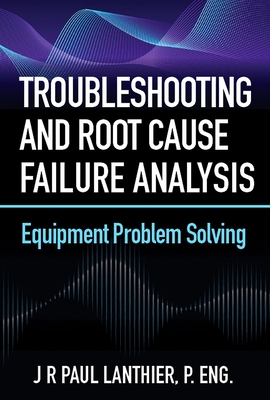 $57.44

NOT on our shelves now. Usually ships from warehouse in several days.
Description
---
In the field of maintenance, good problem-solving practices are among the most important elements to maximizing equipment uptime, and by resolving the root cause of the failure, in increasing equipment reliability. To be successful, an organization must be able to resolve the effects of a failure quickly so that it can go back to normal, and, in some cases, determine the cause of the failure so that a permanent solution can be identified and implemented. These are two distinct requirements (troubleshooting and root cause failure analysis), with distinctive requirements. Both are important, and one cannot exist without the other if we want to be efficient and effective in resolving asset failures.
This work takes a unique approach to equipment failure-related problem solving by presenting both types of failure resolution techniques, the purpose of each, and describing how best to use them. In presenting root cause failure analysis, the book distinguishes between information gathering and failure analysis. It provides five information gathering methods and three root cause analysis methods from the 5-Whys to Logic Tree Analysis to Single Functional Failure RCM. It follows a structured approach to managing the RCFA, from stabilizing the site and gathering information, to implementing and sustaining the results, to leveraging the solution. This book provides practical methods and tools needed to achieve problem-solving goals and objectives, both when troubleshooting a problem as well as when determining a permanent solution. All of this information is kept to a concise and extremely readable length and format. The market needs a practical troubleshooting and RCFA guide that is not software specific and that provides a clear, structured approach to both. This work is that rare find.
Features
Explores problem solving as a science.
Focuses on how to help an organization be successful, both at quickly getting the plant back in operation, and defining permanent solutions.
The only book to detail troubleshooting and RCFA under the same cover.
About the Author
---
J R Paul Lanthier, P. Eng., is a facilitator, practitioner, trainer, coach, mentor, project manager, practice lead, Director, VP of Operations, and President. He has worked in the fields of asset management, organizational engineering, reliability and maintenance at all levels in various industry sectors worldwide. Paul is the former Director of 'The Aladon Network, ' and leader for RCM2, as well as former Director of Reliability Services at Ivara Corp. As a professional Engineer with nearly 40 years' experience, he is a recognized technical leader in the field of asset management and an author of multiple books.