The Book of Daniel: Poems (Pitt Poetry Series) (Paperback)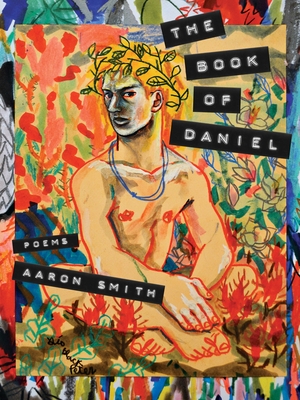 $17.00
NOT on our shelves now. Usually ships from warehouse in several days.
Description
---
A tour de force, Aaron Smith's fourth collection of poetry, The Book of Daniel, resists the easy satisfactions of Beauty while managing the contemporary entanglements of art, sex, and grief. Part pop-thriller, part queer rage, and part mourning, these poems depict not only the complications of representation in the age of social media but a critique of identity. Taking on subjects as diverse as the literary canon, his mother's incurable cancer diagnosis, gay bashing, celebrity gossip, bigotry, violence on TV, and Alexander McQueen's suicide, Smith proves that the confessional lyric is not dead. In tangents as wild as they are reigned, with his characteristic blend of directness, vulnerability and humor, these poems take on the world as it is, a world we love even as it resists all intimacy.
 
About the Author
---
Aaron Smith is the author of three books of poetry: Primer, Appetite and Blue on Blue Ground, winner of the Agnes Lynch Starrett Prize. His work has appeared in numerous publications including Ploughshares and Best American Poetry. A three-time finalist for the Lambda Literary Award, he is the recipient of fellowships from the New York Foundation for the Arts and the Mass Cultural Council. He is associate professor of creative writing at Lesley University in Cambridge, Massachusetts.
 
Praise For…
---
"Smith's poems expound a complicated and distinctly queer relationship to beauty. . . . He levels a caustic wit at the pantheons of pop culture and modern poetry, but also strikes resounding notes of hurt and rage at homophobia, misogyny, rejection, and loss."
—The New Yorker
"The direct and vulnerable fourth collection from Smith (Blue on Blue Ground) explores queer identity, masculinity, and mortality, informed by the American obsession with celebrity in various forms. . . . This newest collection offers an expansive, diverse consideration of identity and grief."
—Publishers Weekly
"Whereas Smith's previous book of poetry, Primer (2016), dealt in nuance and innuendo, he shows a more easily humorous side to his writing here, while still addressing serious topics with breathtaking severity. . . . Smith's poetry proves endlessly provocative, often difficult, but never more of the same."
—Booklist
 "[The Book of Daniel] seethes with tension, anger, unease. . . . hardness is balanced by moments of gutting tenderness."
—The Boston Globe
 
"Aaron Smith is queer poetry's lacerating, arch, self-aware satirist in the age of poetry-branding, 'everyone / saying they're brilliant.' (If Smith had a brand, it might read,
No more being peaceful
, as he writes at the end of 'I Pledge Allegiance to the Fag.'). The poems in
The Book of Daniel
, damaged and violent and intimate, wryly circumspect, demand nothing—certainly not admiration—other than the reader's unflinching attention. I admire them, and get the hell out of their way."
—Randall Mann
"'Does anyone have / a poem to Cher?' I doubt it's as honest or fresh as the poems in 
The Book of Daniel.
 Can a poet be as well-versed in Plath, Lorde, Olds, and Baraka as he is in celebrity and pop culture? Spoiler alert: hell, yeah. With the gift of a high-speed Internet connection, Smith maneuvers the confusing messages of grief, rejection, and, yes, contemporary poetry. Poets beware: you are not off the hook. Smith brilliantly challenges everything you hold sacred."
—Yona Harvey  
"Reading
The Book of Daniel
is like catching up with a raucous, well read, deeply sensitive, mercilessly candid friend. With astonishing turns—heartbreak to hilarity and back—the poet leads us through fantasy, brutality, daydream, irreverence and devotion. Smith's wit is impressive, not irony-as-evasion, but laughter of the highest order, retrieved from bewilderment and sorrow. These poems will reward your attention with their effervescence and their depth."
—Patrick Rosal  
"Aaron Smith writes with arresting, melancholy literalness about bruises, exaltations, arousals, delectations, and defeats. He doesn't mess around with filigree. He sticks to abject delineation, punchy straightforwardness—a new way of being formal and naked. I believe in these gripping poems, and in their message to the world."
—Wayne Koestenbaum