They Are Sleeping (Contemporary Poetry) (Paperback)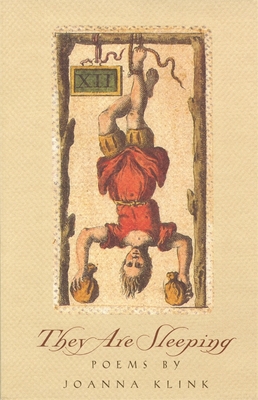 $19.95
NOT on our shelves now. Usually ships from warehouse in several days.
Description
---
In They Are Sleeping, Joanna Klink tests the limits of solitude, setting her poems in places where our grip on "self" is loosened and blurred--caves, coastlines, rooms in cities. As her poems lead us through these sometimes beautiful, sometimes appalling internal landscapes, characters like the Hanged Man and the Lady of Situations reappear, often locked in misunderstanding but compelling us toward a more fragile and expansive sense of self.
About the Author
---
JOANNA KLINK is the author of four books of poetry. She has received awards and fellowships from the Rona Jaffe Foundation, the American Academy of Arts and Letters, the Trust of Amy Lowell, and the John Simon Guggenheim Memorial Foundation. She is teaching at the Michener Center for Writers in Austin, Texas.
Praise For…
---
"In Joanna Klink's poems the limits of consciousness are constantly tried by the seductive enchantments of lyricism; clarity and mystery are not only brought close to each other, often they seem indistinguishable. Everywhere, a forceful, scrupulous intelligence is active—a luminous diction, a range of cadences. Everywhere, the burden of feeling is borne with ease."--Mark Strand, former Poet Laureate of the United States

"They Are Sleeping is . . . so rare for a first collection, with a moving and complex tension between its lines and sentences, an engaging kaleidoscopic sense of diction, and a form of sequence to which the reader awakens and re-awakens. . . . Joanna Klink invents a new mythology for those 'landscapes without particulars'—the unmarked natural spaces and cultural sites gone haywire—that separate what is American from what bears meaning over time."--Susan Stewart, author of The Forest

"Joanna Klink is a love poet. Love, like Tarot, is a game of chance where the stakes are souls. Under the sign of the Hanged Man—Le Pendu—true-love comes to pass. Crucified upside down like Saint Paul—hero of reversal—the love-visionary turns hazard and sacrifice into finding and benefit. The presence of such poetry makes everyone—all the persons whom its beauty touches—NEW. This is the finding of an unmistakable poet—her gift."--Allen Grossman, author of The Philosopher's Window