Carrying the Burden of Peace: Reimagining Indigenous Masculinities Through Story (Paperback)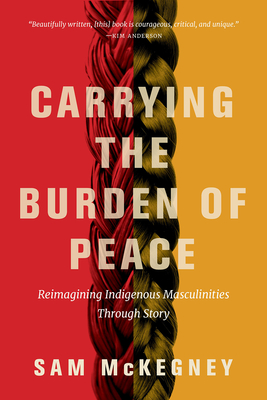 $47.25
Temporarily Unavailable
Description
---
Can a critical examination of Indigenous masculinities be an honor song—one that celebrates, rather than pathologizes; one that seeks diversity and strength; one that overturns heteropatriarchy without centering settler colonialism? Can a critical examination of Indigenous masculinities even be creative, inclusive, erotic?

Sam McKegney answers affirmatively. Countering the perception that masculinity has been so contaminated as to be irredeemable, the book explores Indigenous literary art for understandings of masculinity that exceed the impoverished inheritance of colonialism.

Carrying the Burden of Peace weaves together stories of Indigenous life, love, eroticism, pain, and joy to map the contours of diverse, empowered, and non-dominant Indigenous masculinities. It is from here that a more balanced world may be pursued.
 
About the Author
---
Sam McKegney is a settler scholar of Indigenous literatures and a professor in the Department of English at Queen's University in the territories of the Haudenosaunee and Anishinaabe Peoples.
Praise For…
---
"McKegney is candid and respectful, and his book is carefully researched, theoretically sophisticated, and persuasive. ... By focusing on depictions of the body, by rejecting stereotypes of the bloodthirsty warrior and the drunken absentee, and by suggesting gender fluidity rather than a recovery project of romanticized  Indigenous traditions, McKegney offers a provocative and thought-provoking study."—E. R. Baer, CHOICE

"There has been much debate . . . as to whether the examination of Indigenous masculinities might be one that celebrates rather than pathologizes. McKegney does not shy away from these debates and the players involved, and in so doing, takes risks in the service of holding place for decolonial men and masculinities."—Kim Anderson, co-editor of Indigenous Men and Masculinities

"I came away from the manuscript convinced of the need for this work, as I find it exemplary of the kind of careful, ethically attentive, and deeply generous scholarship we need more of."—Daniel Heath Justice, author of Why Indigenous Literatures Matter