Autobiography of Death (Paperback)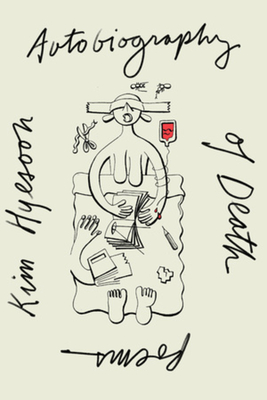 $16.95

ON HAND in at least ONE of our stores. Click through or call for up-to-the-minute availability.
Description
---
Kim Hyesoon's poems "create a seething, imaginative under-and over-world where myth and politics, the everyday and the fabulous, bleed into each other" (Sean O'Brien, The Independent)
*Winner of The Griffin International Poetry Prize and the Lucien Stryk Asian Translation Award*
The title section of Kim Hyesoon's powerful new book, Autobiography of Death, consists of forty-nine poems, each poem representing a single day during which the spirit roams after death before it enters the cycle of reincarnation. The poems not only give voice to those who met unjust deaths during Korea's violent contemporary history, but also unveil what Kim calls "the structure of death, that we remain living in." Autobiography of Death, Kim's most compelling work to date, at once reenacts trauma and narrates our historical death—how we have died and how we survive within this cyclical structure. In this sea of mirrors, the plural "you" speaks as a body of multitudes that has been beaten, bombed, and buried many times over by history. The volume concludes on the other side of the mirror with "Face of Rhythm," a poem about individual pain, illness, and meditation.
About the Author
---
Kim Hyesoon, born in 1955, is one of the most prominent and influential contemporary poets of South Korea. She was the first woman poet to receive the prestigious Kim Su-yong and Midang awards, and has been translated into Chinese, French, German, Japanese, Spanish, and Swedish. Her most recent books include I'm OK, I'm Pig! and Poor Love Machine.

Born in Seoul, South Korea, Don Mee Choi is the author of the National Book Award winning collection DMZ Colony (Wave Books, 2020), Hardly War (Wave Books, 2016), The Morning News Is Exciting (Action Books, 2010), and several chapbooks and pamphlets of poems and essays. She has received a Guggenheim Fellowship, MacArthur Fellowship, Whiting Award, Lannan Literary Fellowship, Lucien Stryk Translation Prize, and DAAD Artists-in-Berlin Fellowship. She has translated several collections of Kim Hyesoon's poetry, including Autobiography of Death (New Directions, 2018), which received the 2019 International Griffin Poetry Prize.
Praise For…
---
Living through the military dictatorships and uprisings of South Korea's post-war period, and writing from a present marked by continued corruption among society's highest ranks, Kim Hyesoon's Autobiography of Death addresses and gives voice to the swirling and incalculable mass of those whose lives were ended unjustly.

— Tyler Green - Kenyon Review

"By being 'of' and not 'about' death, Autobiography of Death recognizes both individual and collective involvement in the structure of death—unable to unstick itself from the structure of power." 

— Lotte L.S. - Ploughshare

Questions of the agency and effects of death, in both individual and mass tragedies, are central to this extraordinary collective elegy from Kim...This is Choi's sixth masterly translation of Kim, and it fully reveals the startling architecture Kim develops to display structural horrors, individual loss, and the links between them.
— Publishers Weekly (starred)

In forty-nine poems, each representing a day, Kim captures death's cycle between life and reincarnation: pages filled with wings and shadows, female laughter and weeping, bloody rabbits and dead mothers.
— Madeline Vardell - The Arkansas International

In the grievous wake of the Sewol Ferry incident of 2014, the Korean poet Kim Hyesoon composed a cycle of forty-nine poems—one for each day the dead must await reincarnation—to produce a harrowing work of shock, outrage, and veneration for the children lost to this disaster. Through Don Mee Choi's extraordinary translations, we hear the clamorous registers of Hyesoon's art—a transnational collision of shamanism, Modernism, and feminism—yield 'a low note no one has ever sung before.' That otherworldly tone may sound like life itself, the poet sings, 'for even death can't enter this deep inside me.'
— Griffin Prize Judges Citation

Kim Hyesoon is Korea's most important living poet and by far its most imaginative writer.
— Bruce Fulton, Young-Bin Min Chair in Korean Literature, University of British Columbia

The birdlike Kim wove a pattern of poems, so strangely compelling and curious, and utterly unlike anything I had heard before.
— Sasha Dugdale