Birthday (Paperback)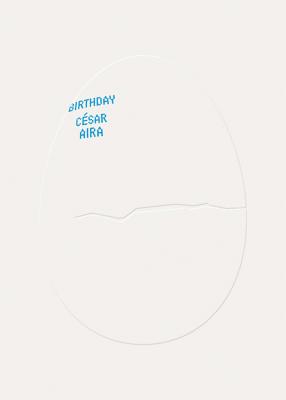 $13.95
ON HAND in at least ONE of our stores. Click through or call for up-to-the-minute availability.
Description
---
Birthday is among the very best of Aira—it will surprise readers new to his work, and will deeply satisfy his many fans
Before you know it you are no longer young, and by the way, while you were thinking about other things, the world was changing—and then, just as suddenly you realize that you are fifty years old. Aira had anticipated his fiftieth—a time when he would not so much recall years past as look forward to what lies ahead—but the birthday came and went without much ado. It was only months later, while having a somewhat banal conversation with his wife about the phases of the moon, that he realized how little he really knows about his life. In
Birthday
Aira searches for the events that were significant to him during his first fifty years. Between anecdotes ,and memories, the author ponders the origins of his personal truths, and meditates on literature meant as much for the writer as for the reader, on ignorance, knowledge, and death. Finally,
Birthday
is a little sad, in a serene, crystal-clear kind of way, which makes it even more irresistible. 
About the Author
---
Nominated for a Neustadt award and the Man Booker International Prize, César Aira was born in Coronel Pringles, Argentina, in 1949. He has published at least one hundred books and recently created a limited edition, "Valise," for the Museum of Modern Art, NYC.

The poet Chris Andrews teaches at the University of Western Sydney, Australia, where he is a member of the Writing and Society Research Centre. He has translated books by Roberto Bolano and César Aira for New Directions. He has won the Anthony Hecht Poetry Prize for his poetry and the Valle-Inclan Prize for his translations.
Praise For…
---
The book begins with an anecdote about a conversation the author had with his wife, in which it's revealed that he doesn't understand what causes the phases of the moon. This revelation of ignorance quickly cascades into a series of reflections on not-knowing, and on the reciprocal relationship between the swiftness of time, which ensures that we can't know everything, and our discontinuous experience of time, which make knowledge feel as disjointed as memory.
— Steven Zultanski - Frieze

[F]everishly pleasurable and smirkingly funny...
— Hyperallergic

It's a slim but thoughtful affair, punctuated by numerous bons mots, acidic self-deprecation, and cutting observations about the world around him...rife with keen observations about passers-by, notes about the author's unique style and why it changed over time, and ruminations on how the author has dealt with the inscrutable eventualities of aging.
— Kirkus

The ostensible simplicity of the volume carries powerful and incisive ideas about life and aging.
— Publisher's Weekly

Triggered by the Argentine author's 50th birthday, this is his meditation, in a series of short chapters, on the events that made up his half century of life.
— The New York Times

For those of his fans who cannot read his work in Spanish, the arrival of each
new title is bittersweet. We want more, and we want it yesterday.
— Patrick Flanery - The Spectator

Among the international brotherhood of readers, César Aira is not just one
of today's most remarkable Argentinian writers, he is also one of the most
original, most shocking, most intelligent and amusing storytellers in Spanish
today.
— Ignacio Echevarría - El País