Climate Courage: How Tackling Climate Change Can Build Community, Transform the Economy, and Bridge the Political Divide in America (Paperback)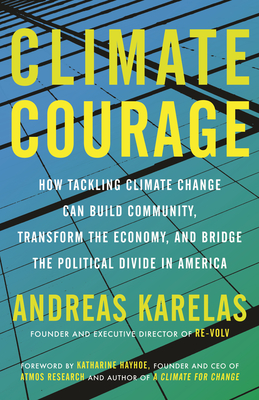 $17.00
Coming Soon. Pre-Order Now!
Description
---
More Americans care about climate change than we think--but in order to unite across the political spectrum around solutions, we need a bold, courageous new narrative about creating a sustainable world focused on a brighter tomorrow.

Andreas Karelas brings an optimistic message that we don't often hear about: we have all the tools we need to solve the climate crisis and we're already building momentum. Climate Courage recognizes that people, not politics, are the agents of change that can create a more sustainable, equitable economy. But to engage people in climate solutions, we need a new way of framing the problem that's empowering rather than fear based. We can move past our collective despair and inaction if we work together in our communities towards a better vision of the future based on shared American values.

Climate Courage highlights the bright spots in the climate fight and the stories of people of various political stripes finding common ground. Emphasizing the rate of job creation in the clean energy economy and the work of climate heroes on both sides of the aisle--including Republican mayors and governors, the military, faith communities, businesses, and community groups--Karelas shows us that climate solutions need not be polarizing. Americans from all walks of life will find inspiration and insights to build trust and heal the divide between red and blue America by connecting with each other and rediscovering the importance of gratitude, simplicity, and service in living fulfilling, meaningful lives.
About the Author
---
Andreas Karelas is the founder and executive director of RE-volv, a nonprofit organization that empowers people around the country to help nonprofits in their communities go solar and raise awareness about the benefits of clean energy. He is a dedicated clean-energy advocate with over 15 years of environmental and renewable energy experience. He is an Audubon TogetherGreen Conservation Leadership Fellow and an OpenIDEO Climate Innovator Fellow. He lives and works in San Francisco. Connect with him at re-volv.org and on Twitter at @AndreasKarelas.
Praise For…
---
"In the wake of the pandemic, nothing could help bring us out of this crisis in a more constructive way than working together to prevent the next one. Climate Courage offers a path towards getting back to something much better, and more united, than our old normal."
—Bill McKibben, cofounder of 350.org and author of Falter: Has the Human Game Begun to Play Itself Out?

"The clean energy revolution is well underway and Karelas, an innovator in the space, accurately captures the moment we're in. There has never been a greater time to work for and invest in a more sustainable and equitable world and Climate Courage spells out the opportunity clearly."
—Jigar Shah, founder of SunEdison, president and cofounder of Generate Capital

"This inspiring book shows how people from different political and social backgrounds have been galvanizing around a common goal to solve climate change. I highly recommend it."
—Mark Z. Jacobson, professor of civil and environmental engineering, Stanford University

"Climate Courage reframes the narrative on climate change from doom and gloom to opportunity, with a breadth of practical solutions that can appeal to Americans across the political spectrum. This is an excellent summary of how the politics on climate change have evolved and the incredible progress we're making, highlighting coalitions and initiatives that can inspire others. You can't read this and not come away with some optimism!"
—Terry Tamminen, former secretary of the California Environmental Protection Agency and president of 7th Generation Advisors

"We have many of the technical solutions we need to address climate change. Andreas takes on a different question: how do we as a society get to the point where we decide to use them? This book, born of hard experience by a longtime clean energy leader, is an excellent guide to finding our way forward on one of the most important questions we face."
—Adam Browning, founder and executive director of Vote Solar

"Karelas provides an uplifting and thoroughly researched study on the magnitude of efforts being made to confront the climate crisis. Climate Courage shows that it takes a village to save the planet, and here are so many different examples for how we can do it."
—Sarah Shanley Hope, founding executive director of the Solutions Project

"Climate Courage is a gem of a book. I have been teaching about climate change for close to three decades. No other book comes close to explaining the challenges we face and, more importantly, the profound opportunities we are being offered in building a clean energy future. Read this book and give it to everyone you know."
—Paul Wapner, professor of global environmental politics, American University; and author of Is Wildness Over?

"Looking for a journey of optimism among today's doom-and-gloom headlines about climate change? This book is your tour guide. Thoughtful, well-researched, and thoroughly engaging, Climate Courage offers a real-world road map of hope and inspiration about the future of our planet and ourselves."
—Clint Wilder, coauthor of The Clean Tech Revolution and Clean Tech Nation

"This inspiring look at how and why solar can and should become a leading source of energy—and the diverse leaders on the frontline of change—is a must read. Karelas is both ethical and practical, and his deep love for people and the planet suffuses every page."
—Rev. Sally G. Bingham, founder and president emeritus of Interfaith Power and Light and canon for the environment for the Diocese of California

"The 2020s are supposed to be the decisive decade on climate, but until we're rolling up our sleeves, doing what Andreas describes in vivid detail, we're all 'just talking.' Here's a book on how to summon up the courage to do, not tell. Read it and you will get the gumption that you need to bridge the divides in America and do the work we need to save ourselves from our own worst impulses. Shine on!"
—Danny Kennedy, cofounder of Sungevity and CEO of New Energy Nexus