Bee People and the Bugs They Love (Paperback)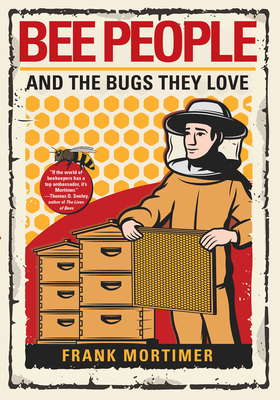 Description
---
Certified master beekeeper and president of the Northeast NJ Beekeepers Association, Frank Mortimer, chronicles the adventures and comedic misfortunes of beekeeping in a funny, noble odyssey into the fantastic, complex world of bees and their human custodians.


A fascinating foray into the obsessions, friendships, scientific curiosity, misfortunes and rewards of suburban beekeeping—through the eyes of a Master Beekeeper...

Who wants to keep bees? And why? For the answers, Master Beekeeper Frank Mortimer invites readers on an eye-opening journey into the secret world of bees, and the singular world of his fellow beekeepers. There's the Badger, who introduces Frank to beekeeping; Rusty, a one-eyed septuagenarian bee sting therapist certain that honey will be the currency of the future after the governments fail; Scooby the "dude" who gets a meditative high off the awesome vibes of his psychedelia-painted hives; and the Berserker, a honeybee hitman who teaches Frank a rafter-raising lesson in staving off the harmful influences of an evil queen: "Squash her, mash her, kill, kill, kill!"

Frank also crosses paths with those he calls the Surgeons (precise and protected), the Cowboys (improvisational and unguarded) and the Poseurs, ex-corporate cogs, YouTube-informed and ill-prepared for the stinging reality of their new lives. In connecting with this club of disparate but kindred spirits, Frank discovers the centuries-old history of the trade; the practicality of maintaining it; what bees see, think, and feel (emotionless but sometimes a little defensive); how they talk to each other and socialize; and what can be done to combat their biggest threats, both human (anti-apiarist extremists) and mite (the Varroa destructor).

With a swarm of offbeat characters and fascinating facts (did that bee just waggle or festoon?), Frank the Bee Man delivers an informative, funny, and galvanizing book about the symbiotic relationship between flower and bee, and bee and the beekeepers who are determined to protect the existence of one of the most beguiling and invaluable creatures on earth.

About the Author
---
Frank Mortimer is an adjunct instructor at the Cornell University Master Beekeeping Program, a certified master beekeeper, an instructor at The New York Botanical Garden, contributor to Bee Culture Magazine, and president of the Northeast NJ Beekeepers Association. He is a frequent speaker at events for audiences ranging from school children to gardening clubs and civic organizations and has led beekeeping seminars across New Jersey and at The New York Botanical Garden. Frank is married, has three children, and beekeeping is something the whole family enjoys doing together. Visit him online at BeePeopleTheBook.com.