Cherokee Medicine, Colonial Germs: An Indigenous Nation's Fight Against Smallpox, 1518-1824volume 11 (New Directions in Native American Studies #11) (Paperback)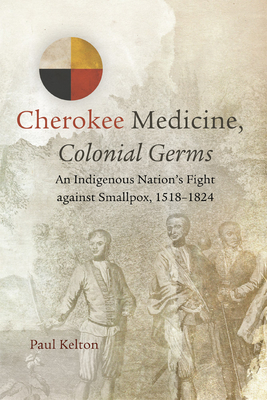 Description
---
How smallpox, or Variola, caused widespread devastation during the European colonization of the Americas is a well-known story. But as historian Paul Kelton informs us, that's precisely what it is: a convenient story. In Cherokee Medicine, Colonial Germs Kelton challenges the "virgin soil thesis," or the widely held belief that Natives' lack of immunities and their inept healers were responsible for their downfall. Eschewing the metaphors and hyperbole routinely associated with the impact of smallpox, he firmly shifts the focus to the root cause of indigenous suffering and depopulation--colonialism writ large; not disease.

Kelton's account begins with the long, false dawn between 1518 and the mid-seventeenth century, when sporadic encounters with Europeans did little to bring Cherokees into the wider circulation of guns, goods, and germs that had begun to transform Native worlds. By the 1690s English-inspired slave raids had triggered a massive smallpox epidemic that struck the Cherokees for the first time. Through the eighteenth century, Cherokees repeatedly responded to real and threatened epidemics--and they did so effectively by drawing on their own medicine. Yet they also faced terribly destructive physical violence from the British during the Anglo-Cherokee War (1759-1761) and from American militias during the Revolutionary War. Having suffered much more from the scourge of war than from smallpox, the Cherokee population rebounded during the nineteenth century and, without abandoning Native medical practices and beliefs, Cherokees took part in the nascent global effort to eradicate Variola by embracing vaccination.

A far more complex and nuanced history of Variola among American Indians emerges from these pages, one that privileges the lived experiences of the Cherokees over the story of their supposedly ill-equipped immune systems and counterproductive responses. Cherokee Medicine, Colonial Germs shows us how Europeans and their American descendants have obscured the past with the stories they left behind, and how these stories have perpetuated a simplistic understanding of colonialism.