Bruce Lee Jeet Kune Do: A Comprehensive Guide to Bruce Lee's Martial Way (Paperback)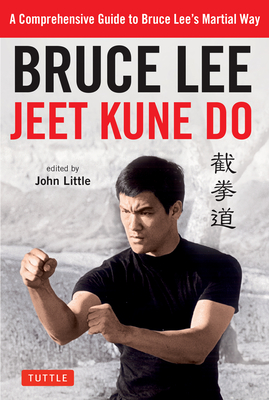 $19.99
ON HAND in at least ONE of our stores. Click through or call for up-to-the-minute availability.
Description
---
Bruce Lee Jeet Kune Do is the iconic book presenting the martial art created by Bruce Lee as explained in the master's own words. In 1970, Bruce Lee suffered a back injury that confined him to bed. Rather than allowing this to slow his growth as a martial artist, he read feverishly on Eastern philosophy and Western psychology and self help books, constructing his own views on the totality of combat and life. It was during this time that Lee wrote 7 volumes containing his thoughts, ideas, opinions, and research into the art of unarmed combat, and how it applies to the everyday life. Some of this material was posthumously published in 1975, but much more existed. This landmark book serves as a more complete presentation of Bruce Lee's notes on his art of Jeet Kune Do. The development of his unique martial art form, its principles, core techniques, and lesson plans are presented here in Lee's own words. It also features Lee's illustrative sketches and his remarkable treatise on the nature of combat, success through martial arts, and the importance of a positive mental attitude in training. In addition, there are a series of "Questions Every Martial Artist Must Ask Himself," that Lee posed to himself and intended to explore as part of his own development, but never lived to complete. Jeet Kune Do: A Comprehensive Guide to Bruce Lee's Martial Way is a book every Bruce Lee fan must have.
About the Author
---
Bruce Lee was an intense man with such sheer concentration of energy that no one who encountered him, on screen or in person, could help but be drawn to him and his enthusiasm for life and knowledge. A voracious and engaged reader, Lee wrote extensively, synthesizing the thought of East and West into a unique personal philosophy of self-discovery. As an actor, Lee became a cultural icon. He was born in San Francisco but spent his formative years in Hong Kong. His groundbreaking action films sparked intense interest in the Asian martial arts in the West. His most famous film is Enter the Dragon (1973). He was an avid student of all forms of martial arts along with Eastern and Western philosophy and is regarded today as the most influential martial artist who ever lived. Lee moved beyond the rigid traditional style of martial arts to develop his own free-form, modern style known as Jeet Kune Do. John Little is considered one of the world's foremost authorities on Bruce Lee, his training methods, and philosophies. Little was the first person authorized to review the entirety of Lee's personal notes, sketches, and reading annotations.