Privacy in Context: Technology, Policy, and the Integrity of Social Life (Paperback)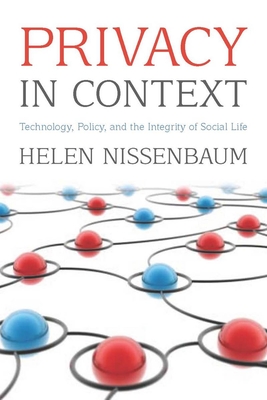 $28.60

NOT on our shelves now. Usually ships from warehouse in several days.
Description
---
As use of information technology increases, we worry that our personal information is being shared inappropriately, violating key social norms and irreversibly eroding privacy. This book describes how societies ought to go about deciding when to allow technology to lead change and when to resist it in the name of privacy.
About the Author
---
Helen Nissenbaum is Professor of Media, Culture and Communication, and Computer Science and Senior Fellow of the Information Law Institute at New York University. She is the coeditor of Academy and the Internet (2004) and Computers, Ethics, and Social Values (1995), and the author of Emotion and Focus (1985).
Praise For…
---
"[S]ubtle and important . . . There is no doubt that Nissenbaum thinks with the learned . . Before the book appeared Nissenbaum's work on privacy was already well respected and widely cited. The present book should seal her reputation as one of a handful of leading privacy theorists today. My guess is that the book will be required reading for a long while to come for all who want to make significant contributions to the debate about the ethics of privacy."—Tony Doyle, Journal of Value Inquiry

"[Privacy in Context] takes the privacy discourse several steps ahead. Nissenbaum sets an ambitious goal and accomplishes it in grand fashion. She proposes a detailed framework to better understand privacy issues and assist in prescribing privacy policies that meets the needs of the 21st century . . . [T]he book breaks new paths. It signals the beginning of a new privacy paradigm (an assessment that will be easier judged in hindsight) and is an important contribution to the growing law and technology literature."—Michael D. Birnhack, Jurimetrics

"Nissenbaum has written a badly needed and accessible book that can serve as a guide through the emerging digital maze without demanding that we surrender our right to privacy in return... Her book offers a straightforward and articulate account of the role that privacy plays in a democratic society, the ways in which technology undermines it, and the steps we need to take to ensure that we don't succumb to the faulty logic of data-hungry corporations."—Evgeny Morozov, Times Literary Supplement

"This book provides a refreshing, contemporary look at information privacy in the twenty-first century. Nissenbaum persuasively argues that privacy must be understood in its social context, and she provides an insightful and illuminating account of how to do so. For anyone considering the burgeoning problems of information privacy, Privacy in Context is essential reading." —Daniel J. Solove, George Washington University Law School and author of Understanding Privacy

"Privacy in Context is a major achievement. It is rare for anyone to come into a field so well plowed and make a genuine contribution. Grounded in extensive knowledge of the theoretical literature and a real engagement with the practicalities of informational instability that surround us, Nissenbaum's new framing of the tensions raised by surveillance and processing of information is important. Practical and oriented to the world and its social practices, rather than to abstractions or formal claims, contextual integrity is a concept both rich and detailed, with which any serious debate about privacy in the networked environment must now engage."—Yochai Benkler, Harvard University