In the Country: Stories (Paperback)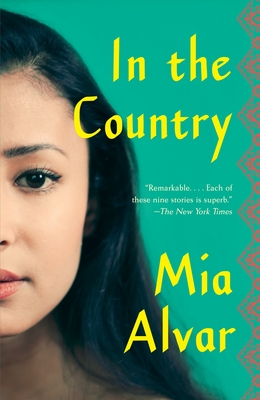 $16.95
ON HAND in at least ONE of our stores. Click through or call for up-to-the-minute availability.
Description
---
In these nine globe-trotting tales, Mia Alvar gives voice to the women and men of the Philippines and its diaspora. From teachers to housemaids, from mothers to sons, Alvar's stories explore the universal experiences of loss, displacement, and the longing to connect across borders both real and imagined. In the Country speaks to the heart of everyone who has ever searched for a place to call home—and marks the arrival of a formidable new voice in literature.
About the Author
---
Mia Alvar was born in Manila and grew up in Bahrain and New York City. Her work has appeared in One Story, The Missouri Review, FiveChapters, The Cincinnati Review, and elsewhere. She has received fellowships from the Lower Manhattan Cultural Council, Yaddo, and the Djerassi Resident Artists Program. A graduate of Harvard College and Columbia University, she lives in New York City.
Praise For…
---
Winner of the PEN/Robert W. Bingham Prize for Debut Fiction
A 2015 Nautilus Book Award Winner
National Book Critics' Circle/John Leonard Prize for Best Debut finalist
 
One of the Best Books of the Year
San Francisco Chronicle • Buzzfeed • Men's Journal • Huffington Post • NPR • Bustle • Electric Literature • Kirkus Reviews
A New Yorker Staff Pick

"Remarkable. . . . Each of these nine stories is superb." —The New York Times

"Gorgeous. . . . As a reader and a new fan, I want more and more and more." —Maureen Corrigan, "Fresh Air," NPR
 
"Haunting and powerful. . . . Extraordinarily adept and insightful." —The Plain Dealer
 
"A deep and textured look at Filipino culture at home and abroad. . . . Through careful, delicate prose, Alvar reveals her characters' pasts and desires." —Entertainment Weekly
 
"A stunning debut." —San Francisco Chronicle
 
"Enchanting. . . . Deft portraits of transnational wanderers, blessed and cursed with mobility." —The New York Times Book Review

"Magnificent. . . . Debut story collections don't come much better than this." —The Seattle Times

"In lush, sinuous sentences, Alvar probes the enduring stain of race, colonialism, and especially class, giving voice to all strata of Philippine society." —O, The Oprah Magazine
 
"Graceful, carefully crafted stories—each one a world unto itself." —Nathan Englander, author of What We Talk About When We Talk About Anne Frank
 
"Profound, trenchant short stories." —People
 
"Superbly affecting. . . . So smoothly and successfully realized that it seems incredible that this volume is [Alvar's] fiction debut." —The Christian Science Monitor
 
"Compulsively readable. . . . Each [story]. . . has the satisfying heft of a little novel." —Chicago Tribune
 
"Spectacular. . . . Graceful and gutsy." —Laura van den Berg, author of The Isle of Youth and Find Me
 
"So well-drawn and plot-rich that you almost wish it were a novel. But then Alvar wouldn't have been able to cram in so many disparate voices and painful ironies." —New York Magazine

"Rich, meaty, fulfilling stories. . . . [Alvar's] writing both memorializes and celebrates the lives of anyone who has ever suffered—that is to say, of us all." —The Rumpus
 
"While the subject matter is indeed fresh, the real appeal belongs to the lush sentences, rapid pacing, and morally conflicted characters." —The Miami New Times
 
"Marvelous. . . . [Alvar's] diamond prose sparkles so brightly and cuts so deeply." —Celeste Ng, author of Everything I Never Told You
 
"[Alvar] captures a global village of voices . . . with a ventriloquist's ease." —Vogue.com
 
"Stunning . . . the yearnings of the characters resonate well beyond the page, and each story feels as rich, as deep, and as crafted as a novel." —Publishers Weekly (starred review)
 
"So assured and so wise, these stories feel like classics already." —Karen Thompson Walker, author of The Age of Miracles
 
"In the Country is like no book of stories I've ever read and I loved it deeply. . . . Alvar is an astounding writer." —Jessica Woodbury, BookRiot
 
"Generous and heartbreaking, empathetic and insightful." —Molly Antopol, author of The UnAmericans
 
"Heartache, family angst, anger, regret: It has it all." —Elle.com
 
"A triumphant, singular collection." —Kirkus Reviews (starred)
 
"Alvar illuminates the lives of her characters with such penetrating insight, wisdom, and compassion that it's impossible not to experience their struggles and aspirations as your own." —Sigrid Nunez, author of The Last of Her Kind
 
"Meticulous and beautiful." —Roxane Gay, B&N Review

"With a lyrical grace similar to the stories [of] Jhumpa Lahiri and a psychological acuity we find in Yoko Ogawa's novellas, here is a talented new voice named Mia Alvar. The stories she's written are the kind that can make a difference." —Mario Alberto Zambrano, author of Lotería
 
"A rich and varied collection . . . . [Alvar] capture[s] that peculiar blend of excitement and pain that comes with uprooting oneself from a specific place or idea." —Electric Literature
 
"Few writers, even the most seasoned, can produce collections of evenly superb stories. Mia Alvar triumphs on her first try." —Library Journal (starred)
 
"Complex and irresistibly fascinating . . . . Not a single word is misplaced in these narratives, which are masterpieces of immersive classical storytelling, even as they surprise you and evade expectations." —BuzzFeed