The Nuns of Sant'Ambrogio: The True Story of a Convent in Scandal (Paperback)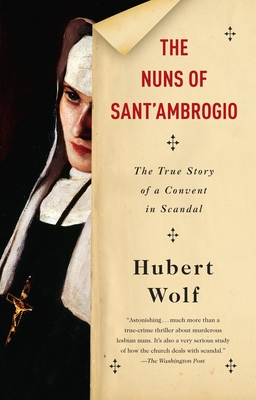 Description
---
A Washington Post Notable Book

In 1858, a German princess, recently inducted into the convent of Sant'Ambrogio in Rome, wrote a frantic letter to her cousin, a confidant of the Pope, claiming that she feared for her life. A subsequent investigation by the Church's Inquisition uncovered the shocking secrets of a convent ruled by a beautiful young mistress, who coerced her novices into lesbian initiation rites and heresies, and who entered into an illicit relationship with a young theologian. Drawing upon written testimony and original documents discovered in a secret Vatican archive, The Nuns of Sant'Ambrogio is the never-before-told true story of how one woman was able to practice deception, heresy, seduction, and murder in the heart of the Catholic Church.
About the Author
---
Hubert Wolf, born in 1959, is professor of Medieval and Modern Church History at the University of Muenster, Germany. He was honored with the Leibniz-Prize of the German Research Foundation (DFG), the Communicator Award, and the Gutenberg Prize, and he was fellow at the Historisches Kolleg in Munich.
Praise For…
---
"Astonishing . . . much more than a true-crime thriller about murderous lesbian nuns. It's also a very serious study of how the church deals with scandal." —The Washington Post

"In 1998, Pope John Paul II opened the secret archives of the Congregation for the Doctrine of the Faith—better known to you as the Inquisition—to outside researchers. The following year, German historian Hubert Wolf found something that, as they say on the Internet, will blow your mind." —Lev Grossman, Time

"Deftly balances . . . juicy history with a raft of serious (yet accessible) research into the intricacies of Vatican bureaucracy, the underlying philosophical disputes among various key Roman Catholic figures, and the complex political landscape of mid-nineteenth century Italy." —The Boston Globe

"A learned yet fascinating account. . . . [Wolf] has an enviable handle on the palace intrigues motivating all the players." —Salon

"The scandal that Wolf discovered in a secret Vatican archive, in 1999, would have left a true-crime writer salivating. . . . [He] reconstructs what went on inside the convent based on transcripts from the trial and intercepted letters. . . . There is . . . something remarkable about a poor, uneducated nun who brings the Jesuits to their knees while remaking herself as a goddess." —The New York Times Book Review
 
"A huge story of strange times. . . . Exciting reading." —The Columbus Dispatch
 
"I learned more about the Catholic Church from this book than anything I had read previously. . . . That the author is also an ordained minister and professor of ecclesiastical history only lends support to his claims. . . . Wolf unravels a tale of religious madness and psycho-sexual power trips that is just waiting to be turned into a film by Milos Forman." —Shyam K. Sriram, PopMatters

"The discovery of the century straight from the Vatican archives. An absorbing story of abuse, murder, and false morals." —Kurier (Germany)

"This sordid tale of sexual indecency, false saints, and murder within a 19th-century convent in Rome has all the trappings of a good thriller. . . . [Wolf] adds detailed historical context and careful explanations to elevate this tale beyond sensationalism into a more serious study of a fascinating real-life melodrama." —Publishers Weekly (starred)

"The gloomy intrigue that [Hubert Wolf] reveals in this extraordinary book, in which murders mingle with forbidden love in all the senses of the word, seems to verify the most overstretched commonplaces of the convent literature, from Diderot's La Religieuse to de Sade's Juliette." —Le Monde (France)

"The true story of an Italian nunnery in the nineteenth century contains all the ingredients of a thriller: the Inquisition, sex, poisoning, conspiracy, and hypocrisy." —Neue Zürcher Zeitung am Sonntag (Switzerland)

"An eye-opening story. . . . Wolf has expertly recovered and retold this scandalous tale in all its gory, as well as bureaucratic, detail." —Kirkus Reviews

"The way Hubert Wolf deduces insightful conclusions from the doubtlessly spectacular incidents in the nunnery is nothing but masterly." —Die Zeit (Germany)

"Mysticism, sex, theology, murders . . . . It has all the ingredients of a good whodunit." —La Vie (France)