The National Forgotten League: Entertaining Stories and Observations from Pro Football's First Fifty Years (Paperback)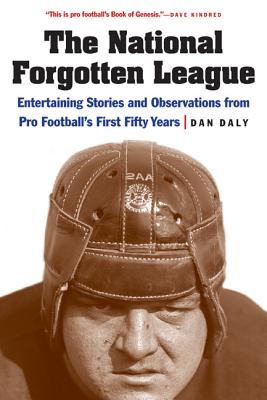 $26.95

NOT on our shelves now. Usually ships from warehouse in several days.
Description
---
The first fifty years of America's most popular spectator sport have been strangely neglected by historians claiming to tell the "complete story" of pro football. Well, here are the early stories that "complete story" has left out. What about the awful secret carried around by Sid Luckman, the Bears' Hall of Fame quarterback whose father was a mobster and a murderer? Or Steve Hamas, who briefly played in the NFL then turned to boxing and beat Max Schmeling, conqueror of Joe Louis? Or the two one-armed players who suited up for NFL teams in 1945? Or Steelers owner Art Rooney postponing a game in 1938 because of injuries? These are just a few of the little-known facts Dan Daly unearths in recounting the untold history of pro football in its first half century. These decades were also full of ideas and experimentation, such as the invention of the modern T formation that revolutionized offense, unlimited player substitution, and soccer-style kicking, as well as the emergence of televised pro football as prime-time entertainment. Relying on obscure sources, original interviews, old game films and statistical databases, Daly's extensive research and engaging stories bring the NFL's formative years—and pro football's folk roots—to life.

About the Author
---
A sports columnist for the Washington Times, Dan Daly has been writing about pro football for more than thirty years and is the winner of numerous awards. His book (with Bob O'Donnell) The Pro Football Chronicle was judged one of the "truly fine books about the sport" by ESPN.com's Rob Neyer.

Praise For…
---
"This is the most entertaining football history since the author's own Pro Football Chronicle. . . . Daly (sports columnist, Washington Times) relies on personal interviews as well as deep and wide newspaper research to uncover some of the oddest and most engaging long-forgotten stories from pro football's first 50 years. . . . The best football book of the year."—Library Journal Review

"From Bull Doehring to Marion Motley to Barney Poole and many in between, Daly captures the essence of the lore of these and many more players who graced the rugged gridirons of yesterday."—Bob Swick, Gridiron Greats

"Daly collected stories like that in part because, as far as he could tell, nobody else had done it. But apparently he was also driven by the conviction that the game the pros play today is not nearly as interesting as the one their predecessors played. Readers will have to decide for themselves whether he's right, and football fans will have a fine time doing so."—Bill Littlefield, Only a Game

"If you are looking for little known facts, fascinating stories and information . . . then this is a good place to begin."—Richard C. Crepeau, AETHLON