Works Cited: An Alphabetical Odyssey of Mayhem and Misbehavior (American Lives ) (Paperback)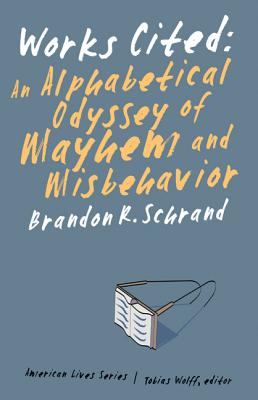 $16.95

NOT on our shelves now. Usually ships from warehouse in several days.
Description
---
"Doing things by the book" acquires a whole new meaning in Brandon R. Schrand's memoir of coming of age in spite of himself. The "works cited" are those books that serve as Schrand's signposts as he goes from life as a hormone-crazed, heavy-metal wannabe in the remotest parts of working-class Idaho to a reasonable facsimile of manhood (with a stop along the way to buy a five-dollar mustard-colored M. C. Hammer suit, so he'll fit in at college). The Adventures of Huckleberry Finn informs his adolescent angst over the perceived injustice of society's refusal to openly discuss boners. The Great Gatsby serves as a metaphor for his indulgent and directionless college days spent in a drunken stupor (when he wasn't feigning interest in Mormonism to attract women). William Kittredge's Hole in the Sky parallels his own dangerous adulthood slide into alcoholism and denial.
With a finely calibrated wit, a good dose of humility, and a strong supporting cast of literary characters, Schrand manages to chart his own story—about a dreamer thrown out of school as many times as he's thrown into jail—until he finally sticks his landing.
About the Author
---
Brandon R. Schrand is an assistant professor of creative writing at the University of Idaho. His book The Enders Hotel: A Memoir (Nebraska, 2007) was a River Teeth Literary Nonfiction Prize winner and a Barnes & Noble Discover Great New Writers selection.
Praise For…
---
"A tender and at times truly funny paean to the books that helped shape him, this is a different and welcome kind of memoir, one that ingeniously uses the form of bibliography to acknowledge and celebrate the conversation that all writers and readers have with the authors they love, a conversation that happens indelibly, sometimes even reluctantly and unconsciously, across the ages."—Robin Hemley, author of A Field Guide for Immersion Writing and Do-Over!


"This book pulled me in and wouldn't let go. Schrand carefully re-creates everyday experiences, revealing the mutability of our multiple selves in relation to our stories and the stories that influence us. Particularly in an age where books are presented first as commodity and then as transparent means to fame or infamy, the idea of books and reading as life-savers is necessary and vital."—Sonya Huber, author of Opa Nobody

"Often forgiven, Schrand has led an oddly charmed life, which he reveals through 27 essays about the benefits and dangers of reading particular books, which he arranges alphabetically by author. This has strong book-discussion possibilities."—Rick Roche, Booklist starred review

"Works Cited is a riveting story about literature's potential to transform a life, as we watch an undisciplined teenager with vague ambitions slowly become a self-aware and loving father, husband and author."—Andrea Clark Mason, High Country News

"A well-written memoir with a structure both clever and pleasing."—Richard Gilbert

"Beautiful writing. . . . Willingly, we go on his journey with him, riding the twists and turns of the story like passengers on a train snaking through the difficult terrain of a challenging country, a symbolism the writer, himself, uses in the book."—Paul L. Martin, Teacher's View